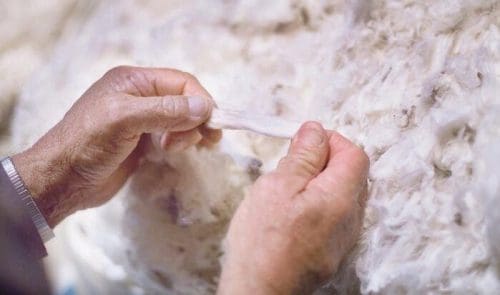 A COURSE to help address the wool industry's shortage of wool classers will start in south-west Victoria next month, aided by recent apprenticeship assistance changes.
Trainees attending the course in early March near Ararat, and their employers, will be assisted by the recent addition of wool classer training to the apprenticeship priority list.
South West TAFE is also planning courses in Mortlake and Hamilton later this year and may do a residential course at Glenormiston College in the future.
The institution said south-west Victorian sheep farmers and contractors are in desperate need of wool classers as an industry-wide shortage started to bite.
South West TAFE wool classing teacher Stuart MacPherson said there were plenty of well-paid job opportunities for experienced people to work in the field.
"There is a lot of demand from contractors and farmers who are constantly looking for good wool classers.
"The demand is quite strong," he said.
"It's very hard to find wool classers, especially those of the right calibre who are performing at the required level.
"There are staff shortages across all facets on the industry, but it's becoming more pronounced with handlers and classers."
Mr MacPherson said the Maroona course would provide practical skills as well as theory.
"Practical skills are important but classers also need a good theory component as well."
He added that wool classers must complete the course to get their ticket and provide a valuable service for farmers and buyers.
"Wool classing is important because when the wool is sold as being classed by a registered wool classer, it gives the buyer an assurance of quality," he said.
The course will take between nine and 18 months.
"It can be comfortably achieved in nine months if you have the time and are committed to doing the book work," Mr MacPherson said.
Classer and now teacher, Sherri Symons, said the industry was screaming out for wool classers.
"There is a desperate need for contractors to find good classers.
"I frequently get phone calls asking me to do it but I have to tell them I'm now teaching the next generation of wool classers."
Ms Symons completed the South West TAFE course about 15 years ago and said it gave her a good grounding in the industry and inspired her to travel across Australia in the role.
"It's an amazing industry to work in.
"Once you get into the industry and start wool classing, the number of amazing people you meet along the way is phenomenal and it can lead to a lot of career opportunities, especially for young people."
The Certificate III in Wool Clip Preparation, Certificate IV in Wool Classing and Certificate III in Advanced Wool Handling were recently added to the Australian Apprenticeship Priority List, meaning trainees undertaking South West TAFE courses in these areas would be eligible for up to $2500 in annual assistance and their employers could receive 10 percent of the salary of the employee up to a maximum of $60,000.
South West TAFE senior educator Trevor Bullen expected the assistance would boost trainee entrants into wool classing.
"In other areas where this assistance has been introduced before we have seen a definite rise in participants – I would expect this to do the same."
To find out more about the South West TAFE wool classing course, call 1300 648 911 or visit www.swtafe.edu.au