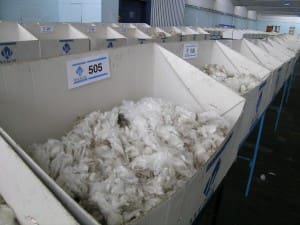 RENEWED Italian interest could help extend the Australian wool market current strong run as supplies of fine wool dwindle in the face of solid Chinese and European demand.
The AWEX Eastern Market Indicator lifted 10 cents to 1422c/kg clean this week, with brokers passing in 8.3 percent of the 40,188-bale offering.
The EMI in $US terms lifted 22 cents to US1087 cents as the $A-US exchange rate rose 1.01 cents to $US76.44 cents.
Prices lifted throughout the Merino micron ranges, up to 64 cents for 18 micron types in Melbourne. AWEX senior market analyst Lionel Plunkett quoted steady price increases across the Merino micron range except for 22 micron wools, which after a 22-cent fall in the benchmark Eastern Market Indicator (EMI) the previous week, was an excellent result, he said.
"The exception was 22 micron which was the only micron to lose ground for the week.
"As has been the case in recent weeks it was the low cvh finer section of the market which had the greatest rises with some lots recording increases of over 60 cents," Mr Plunkett said.
"Some lesser style wools with less favourable test results only just held their ground or recorded modest rises, but importantly they did not fall in price and therefore did not have a negative impact on the market indicators."
Italian processor stocks are reportedly short
Techwool Trading export trade manager Josh Lamb said some resistance to the dearer Australian dollar came into the market later this week, but buyers needing wool were assessing the supply situation and deciding they had no choice but to buy at current levels.
There were also reports this week that Italian processors were running short on wool stocks.
"So that could be very interesting over the next six weeks," Mr Lamb said.
Some European processors have been watching the rising Australian market in recent months hoping it would be short-lived, but have missed recent opportunities to buy when fine wool quantities were available.
"Now quite a few of their customers have sold fabric back in September-October and they haven't covered the greasy, so it means they are just going to bite the bullet and have a go at it."
Mr Lamb said there will a bit of fine wool sold in the designated Australian Superfine sale in Sydney next week, "but the fine wool side of things is pretty much finished now."
Mr Lamb said Australian fine wool supplies have petered out quickly due to the strength of the Chinese interest, while Europe demand is traditionally a "slow burn".
In past years, flushes of fine wool on the market have undermined any price increases.
"But that hasn't happened this year, because obviously we really can say now that those growers are gone.
"Everyone further down the chain has been caught short by it I think, especially early and mid-stage processors," Mr Lamb said.
The extra gains made by low cvh finer wool this week were due to European demand, he said.
"There are two reasons, one, you've got to have a portion of that wool in Chinese orders with the selection at the moment is a little bit longer, it's got a higher mid-break and a higher cvh, so that's a problem.
"So you've got to chase low cvh wools to blend with them."
He said some lesser style wools with less favourable test results holding their ground in the current market reflected the strength of the market with Chinese processors buying more lower spec wools than usual.
"They are in a situation where they are trying to buy quantity so the lower value wools are getting shifted as well."
Mr Lamb said the market for Merino wool was still supply driven, backed by solid demand.
"Since Christmas, it really has become a supply issue; it's just added that extra heat to the market.
"That lack of supply is just giving it that extra kick along."
Mr Lamb said the market recognised crossbred wools are too cheap, especially long term.
"But the issue is, how long before they go up and you really can't see it this season.
"The fashion trends have moved and those big processors of crossbred wool in China have been caught with excess stocks at levels of November 2015 and they need to ship all that before they can start replenishing stock," he said.
"What's happening is that it is taking them a lot longer than they expected to move that wool or that fabric.
"So they can't come back to the market until all that's gone."
The dedicated crossbred mills in China were expected to also reduce their crossbred capacity, based on demand.
Mr Lamb said clients buying crossbred wool in the last 3-4 months had been non-traditional buyers.
"It tells you the price is low historically, but also that the traditional buyers of crossbred wools are still stuck with wool they can't move."
Skirtings market also solid
Mr Plunkett said the skirting market was also a solid performer this week, generally adding 30 cents, with the finer better style types enjoying the largest gains.
"The crossbred section of the market continues to falter in comparison to the Merino sector, this week generally recording losses of between 5 and 20 cents, with 32 micron the most affected," he said.
"The oddment market was a mixed bag.
"Locks and crutchings generally lost 5 to 10 cents for the week, stains were firm and lambs, in particular washing lambs which are becoming very short in supply and in some cases were extreme but generally 20 to 40 cents dearer."
Underlying market strength clear to see
The Australian Wool Innovation weekly market report said the underlying strength of the Australian wool market, particularly in the Merino sector, was again very clear for all to see this week.
"Numerous factors could have conspired against the positive trajectory of the market but didn't, including adverse foreign exchange rates in $US, CNY and Euro against the $A, a selection that is diminishing both in volume and quality, and our major customer, China, celebrating a national week holiday for their New Year.
"Once more, resistance to the upward movement was tried by buyers, but failed dismally, as global competition ensured prices remained predominantly strong," AWI said.
About 46,000 bales are set to auction next week and Sydney's offering of a designated superfine sale should see higher volumes of the better wools create a good atmosphere, AWI said.
"Chinese buyers also starting to return to their offices post holidays should also assist."
Sources: AWEX, AWI, Techwool Trading.