Stockco business development manager Chris Howie offers his perspective on market trends and opportunities in coming weeks and months, drawing from his own observations and from a wide contact network of producers, agents, processors, industry associates and leaders developed during his extensive career as a livestock agent.
THREE short processing weeks in April have certainly extended the COVID lag in lamb and mutton that started in January.
A few have been questioning the softening of the lamb and mutton market through April. I thought it worth listing the contributing factors:
Three short processing weeks
Processor staff shortages due to COVID and fewer visa workers
Significant logistical challenges for export, including ship space and containers
Grain prices going up pushing lambs onto the market instead of feedlots
Significant rain in NSW impacting weight gains, especially of Merinos
Softening store demand as early rains see cropping programs starting.
The residual forward contract lambs and the facts above have created a supply glut which we have not seen for several years. International and domestic demand for lamb and mutton is still very strong. Processors would dearly love to be processing more as well, but the staff and export issues are holding them back.
Store lambs are buyable
With the recent fall in lamb prices and rise in grain value store lambs – especially secondary and Merino have fallen in value. Now is the time to jump in not pull up, if you have capacity and feed.
Cade Ebdon, AWN Tasmania said spring drop store lambs are very buyable with it staying dry through the centre of the island. Many of these lambs are late August and October drop so have plenty of time to do a job on.
Speaking to James Tierney, RLA Wagga and Nick Fogarty, Bowyer & Livermore Bathurst at the Wagga Lamb sale last week. Both stated heavier lambs are the trading target currently with producers looking to beat cutting teeth and sell into the winter supply period. Buying these well grown 2nd cross lambs between $160 & $180 may put some off but the logic behind the trade is very good. Targeting a 28 – 32kg dressed lamb into late July works on my calculator even if the price is only $8.50 plus skin.
Joe Wilks from Wilks McKean Livestock and Property in Wagga said the lighter lambs have eased the most with many looking at the time to finish especially if they are Autumn 2021 drop. Merinos with a skin are an option and even if they are finished as a hogget a buy price around $100 does not seem over the top.
Dean Hubbard, WA Livestock and Wool Manager for Elders said their season is moving along nicely although a couple of are just looking for another rain now. WA break is normally considered 22nd May so no panic. The COVID impact in WA started 3 months behind the east and is still having a significant impact on the processing sector. At the start of April Deans numbers indicated a 45 – 48% reduction in sheep slaughter and a 20% reduction on lamb. Over the last 3 weeks this has recovered by 5% but still has a way to go which will hopefully be helped by the easing of close contact rules. The annual 3 month break on sheep export begins in 3 weeks to avoid the Gulf summer.
Live export – sheep 2012 / 2022. In 2012 I was involved with the fall-out from the cessation of live sheep export (and cattle) as an agent. The impact saw an immediate $25 reduction in the value of sheep in Western Australia as shown on the transacted sales at that time. We seem struggle with learning from past policy driven mistakes and continue to allow decisions based on flawed agenda driven information instead of researched facts. Even though the overall numbers have reduced the pricing dynamic created by live export in WA is very important. The demand for sheep has not disappeared from importing countries. They are buying their requirements from elsewhere however out of site out of mind seems to be the accepted norm in Australia for the opponents of this very important part of the livestock supply chain.
Season is away in most parts
Driving from the Adelaide Hills to north of Parkes last week the germination starts at Lameroo in SA and the feed gets progressively better the further north you go. The Hay plain is exceptional with a distinct lack of livestock observed. Wagga, Temora, Forbes and Parkes had areas of water laying in paddocks and an excess of feed. Qld is getting more rain and WA is good. Tasmania, the lower SE of SA into the Gippsland, Victoria have had a relatively dry run since mid-November however rain over the recent week has provided a start now.
Rodney Dix, Spence Dix and Co, Keith said the South Australian season is a month ahead of last year in most areas. Continued rain and winter feed in New South Wales all bodes well for the ewe sales in August and September. Lamb markings percentages are good with lambs well-advanced having had a very mild Autumn so far.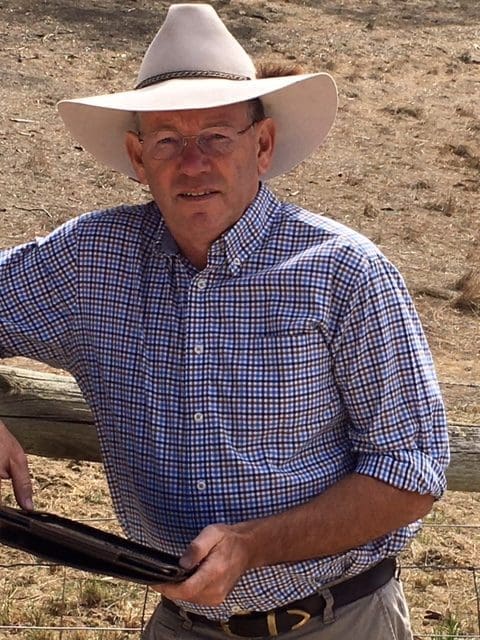 Ag bureaus and farmers benchmarking groups have been around for a long time and the good ones create a great benefit for those involved. Early April I took part in one with 30 farmers attending with presentations about machinery, livestock production and livestock finance opportunities filling the afternoon. One thing I did note is the croppers know exactly how many kilos of inputs and yield for grain yet the same group don't really think about livestock in the same way.
The question to your self should be – How many kilograms of beef, lamb, wool did you produce last year? Not how many head or bales were sold. Improvement within your operation will flow from this simple thought process.
Cattle
Cody Scott, TopEx, Goodiwindi Qld, said the cattle job has started to move again with the recent rains, although April saw prices ease $100 allowing backgrounders to step back into sales. NSW grazing crops are up with cattle on them, and the Qld crops need another three weeks. Cody has been supplying Brit and Euro cross feeders into feedlot with indicative pricing of Steers 300–400kg $6.15 and heifers 300–420kg at $5.85 although booking space has been more important than price during April.
One of my StockCo clients in the New England said he has seen a marked fall in the value of northern female cattle that have been offered recently. Northern heifers with CAF seem to be most affected in NSW falling $200-$300. Recent rains may see these young ladies heading north again. Many orders in NSW are now prepared to pay better money for well breed British heifers and are not interested in females with a bit of content. Quality angus heifers with CAF are trading at $4200 – $4600 and the odd elite lines attracting better again.
Overall, the cattle job is just floating along without any significant bumps. The main run of weaner sales is now ending and normal ebbs and flows of value saw a slight easing of top end prices. Winter supply will see a natural increase in values as we exit May with cow numbers in the south dropping off. Considering the feed situation I have seen recently I do not expect any significant pressure of numbers until late December.
FMD and lumpy skin. It really is time for all in the livestock industry to sit up and start getting interested in biosecurity. Our only hope of stopping any incursion is an immediate report and action mentality from the producer, agent, saleyard or processor if an animal doesn't look right.
The days of hiding the "suspicious" dead ones are well past. My time in Nepal doing FMD training highlighted to me how unprepared the majority of rural Australians are and the "she'll be right" attitude continues.  Simply learning what to look for should be a basic training implemented for all involved in this industry. Foot and mouth disease (link to Government site) will stop the livestock industry in hours of detection. If we remember the issues created by Equine Influenza imagine the disruption in Cattle and Sheep movements.  The Australia government estimates that a small FMD outbreak, controlled in 3 months, could cost around $AUD 7.1 billion, while a large 12 month outbreak would cost $AUD 16 billion.
Opportunities
Biosecurity training
Get your spring livestock finance needs set up now
Store lambs for supply into June & July
Merinos with a start in the skin
Cows and calves to freshen and split
Plenty of opportunities online if you pick through the catalogue
Setting up pastures for the spring
Start looking at how many kilos you produced and what you can do better
Attending industry events while tractors are moving