MLA lamb ad one of 2017's 'most complained about'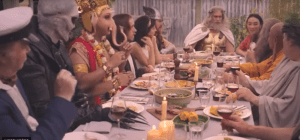 Australia's Avertising Standards Bureau has released its annual list of the 10 most complained about ads, which follow a record 6300 complaints in 2017. Included in the list was Meat & Livestock Australia's lamb advertisement featuring various religious/mythical leaders/Gods/characters seated around a table enjoying a meal together.  The ASB said the complaints centred around 'Discrimination and Vilification'. The complaint was originally dismissed, but the ASB eventually overturned its decision after an influx of opposition from religious leaders. The ASB's list of most complained ads in 2017 is:
1.Ultra Tune Australia – 0042/17. Two women are driving a car when the muffler falls off and starts a fire. They produce fire extinguishers and attempt to stop the fire, before leaping away as the car explodes. Dismissed. No. of complaints: 359. Issues of concern: 2.1 – Discrimination or Vilification, 2.2 – Exploitative and degrading, 2.4 – Sex/sexuality/nudity and 2.6 – Health and Safety.
2.Youfoodz – 0423/17 – TV – Free to air. A young boy impersonating Gordon Ramsay promotes the Youfoodz range, saying the word 'forkin' twice in the advertisement.
Upheld. No. of complaints: 304. Issues of concern: 2.5 – language
3.Youfoodz – 0466/17 – TV – Free to air. A modified version of the Youfoodz advertisement where the 'forkin' has been beeped out. Upheld. No. of complaints: 232 Issues of concern: 2.5 – language.
4.Sportsbet – 0234/17 – TV – Free to air. The advertisement featured (prominently) Olympian and convicted drug cheat Ben Johnson (1988 games) talking about the "performance enhanced" app and included the line "puts the 'roid' in Android". Upheld. No. of complaints: 202. Issues of concern: 2.6 – Health and Safety
5.Neds – 0461/17 – TV – Free to air.  A man receives a telemarketing call and tells his partner that it is the office and he needs to take the call. He then moves to another room and asks the telemarketer to repeat their pitch while he uses the Ned's app on his mobile phone. Dismissed. No. of complaints: 186. Issues of concern: Wagering Code – 2.8 Excess participation
6.Meat & Livestock Australia – 0406/17 – TV – Free to air. Various religious/mythical leaders/Gods/characters seated around a table enjoying a meal together. The figures include Thor, Aphrodite, Jesus, Moses, Buddha and Ganesha. Dismissed. No. of complaints: 144 . Issues of concern: 2.1 Discrimination and Vilification.
7.Neds – 0459/17 – TV – Free to air. A client follows up on the lack of progress of work on a house construction site with the site supervisor. The tradesmen on site comment that they are waiting for work to be finished on site by other tradesmen while using their phones. Upheld No. of complaints: 139. Issue of concern: Wagering Code – 2.8 Excess participation
8.Industry Super Fund – 0156/17 – TV – Free to air. A girl and her mother locking hens in a hen house before going in to their own home. We then see some foxes watching the hen house before a shadowy figure opens the door to let the foxes in. Dismissed.  No. of complaints: 126 Issue of concern: 2.3 Violence
9.AAMI – 0064/17 – TV – Free to air. A family who have broken down on a rural dirt road standing by their caravan with the father talking on their phone describing their location, noticing a sign which says 'ship creek'. Dismissed. No. of complaints: 96 Issue of concern: 2.5 language
10. iSelect Pty Ltd – 0165/17 – TV – Free to air. A television advertisement which shows a couple in bed. The woman switches her light on and off, each time revealing a different partner. Dismissed.  No. of complaints: 72 Issue of concern: 2.1 Discrimination and Vilification and 2.4 Sex, Sexuality and Nudity.
New leadership for SA Sheep Advisory Group
New leadership for SA Sheep Advisory GroupMarrabel farmer Ian Rowett has been elected as the new chairperson of the South Australian Sheep Advisory Group (SASAG) for the next 12 months, with Kangaroo Island commercial sheep industry representative Keith Bolto elected SASAG deputy chair. Established under the Livestock Act 1997, the South Australian Sheep and Cattle Advisory Groups provide advice to the State's Minister for Agriculture, Food and Fisheries on issues of significance to the livestock industry and also on the use of the respective Sheep Industry and Cattle Industry Funds. Mr Rowett, previously the SASAG deputy chair, replaces outgoing chair Leonie Mills who has been in the role since October 2014. All positions, which will be for 12 months, will remain in effect until October 2018.
Sheep Industry Fund 2017-18 funded programs include:
Farm biosecurity (disease control and prevention)
Specific sheep health issues (footrot, lice and Johne's disease in sheep)
Facilitated predator control (dog fence and baiting programs)
Livestock traceability and disease monitoring (National Livestock Identification System compliance and abattoir surveillance)
Advocacy (LivestockSA)
Industry productivity and communications (Sheep Industry Blueprint and SheepConnect)
Skills development (WoolTAG toolbox and the Sheep Expo)
Source: PIRSA
Livestock Breeding and Genetics Forum – Brisbane 21 Feb 2018
A free, one day forum to be hosted by Meat & Livestock Australia in Brisbane on 21 February 2018 will give all livestock industry participants the opportunity engage with and hear updates from he National Livestock Genetics Consortium, which was established in October 2016 after extensive industry consultation. The NLGC's goal is to deliver $400 million in industry improvements by doubling the rate of annual genetic gain in the commercial livestock industry value chain by 2022. A key aim of the NLGC is to coordinate research, reduce timelines and costs ensuring delivery of world leading genetic improvement. MLA General Manager – Producer Consultation & Adoption and NLGC Executive Officer, Michael Crowley, said the forum is designed to engage stakeholders, provide an update of the latest genetics research and development (R&D) investments and most importantly, seek collaboration around livestock genetics adoption and gather feedback on future investment priorities via an interactive workshop.  The Livestock Breeding and Genetics Forum will be held from 8.30am to 5pm at Hall C, Royal International Convention Centre, 600 Gregory Terrace, Fortitude Valley, Brisbane, also known as the Ekka grounds. To register for the forum, click here.
Keep current lamb definition: NSW Farmers
NSW Farmers has confirmed its support for retaining the current Australian definition for lamb. NSW Farmers Sheepmeat Committee chair, Ian Cargill, said there was not currently sufficient information available for sheep producers in NSW to commit to a change in the definition, with too many risks unknown. The lamb definition is currently meat derived from a female, castrated male, or entire male ovine animal that shows no evidence of eruption of permanent incisor teeth. The proposed change of the lamb definition will allow for the eruption of permanent incisors, but without either incisor being in wear. "The proposed definition aligns with New Zealand's lamb category, but their lambs are usually sent to slaughter much earlier than ours and don't often test that boundary," Mr Cargill said. He said that lamb producers in NSW were concerned there isn't enough information on how extending the definition would impact eating quality or consumer perceptions. He said NSW Farmers supports the industry exploring reforming options for the sheepmeat language the development of a cuts-based value system for lamb, underpinning by an eating quality grading system that is based on research and the Meat Standards Australia grading system.
Ag training scholarships for 13 Vic farmers
Thirteen young farmers from across Victoria have received scholarships of up to $10,000 to undertake agricultural training, funded by the Victorian Government. Each recipient will receive grants of up to $5000 to support agricultural training and study in areas such as farm management, business and financial literacy, risk management, and product development. Upon completion of their studies, they will receive an additional funding boost of up to $5000 to invest on-farm or in professional development, to put their new skills into practice. Victorian Minister for Agriculture Jaala Pulford said the $125,000 scholarship program is part of the Victorian Labor Government's ongoing investment to attract and support the next generation of farmers and ensure the future prosperity of Victoria's $13.1 billion agriculture sector. 25 young people from across regional Victoria have already benefitted from the training opportunity and were now putting their skills to work in our agriculture sector. Applications for next year's scholarships will be open in early 2018 to farmers aged 35 or under.
The successful recipients are:
Merryn Byrne, Peechelba East
Georgia Haw, Durham Ox
Kate Kirk, Loch
Joanna Trevaskis, Wairewa
Nicholas Blandford, Bairnsdale
Benjamin Cameron, Skipton
Jake Howman, Rosewhite
Albert Nunn, Snake Valley
Tom Schofield, Tabor
Alister Woods, Inverleigh
Samantha Lizars, Flaggy Creek
Amanda Maher, Pira
Samantha Potter, Barangarook
WA Dept awards first sheep industry research scholarship
A Curtin University agribusiness student is taking part in research to help boost the productivity of the WA sheep industry under a scholarship from the Department of Primary Industries and Regional Development. Ren Bootha was awarded the WA Sheep Industry scholarship for an honours project looking at how sensor technologies could be used to estimate the biomass of a crop, prior to, and during grazing. This information will allow a producer to accurately feed budget to maintain or increase their overall productivity. The research will include the evaluation of innovative technologies including handheld active optical sensors and an unmanned aerial vehicle (UVA) equipped with sensors to measure crop health and estimate biomass. Ren's research is being carried out with Alan Manton and Kelly Pearce from Yealering in partnership with the Facey Group as part of a larger project funded by Meat and Livestock Australia and the CRC for Spatial Innovation through the Australian Livestock Spatial Innovation project. Other collaborators on the overall project are Precision Agronomics, Agvivo, University of New England and Landgate. The results of the trial will be available in May 2018.  More information on how to apply is available on the department's website agric.wa.gov.au searching for 'WA sheep industry scholarships'.