AUCTIONSPLUS sheep buyers showed stronger preferences for young ewes, and preferably scanned in-lamb crossbreds, but were more selective in online sales last week.
First cross ewe lamb prices were reported as robust, ranging from $175-$275 and averaging $267, up $37, with 11,482 head exclusively offered.
However, the clearance rate for this category finished the week at 57 percent – as the reserves set from vendors remained beyond the willingness of many buyers.
Merino ewe lambs sold from $142-$236, averaging $192, and 86pc were sold, reflecting the relative scarcity of available lines (4436 head) and the continued desire to attain young breeders, AuctionsPlus said.
Only 49pc of the 20,480 scanned in-lamb Merino ewes offered were sold, within a range of $85-$350 for an average $241, back $29.
AuctionsPlus said further analysis showed that younger Merino lines were in greater demand, while older, heavier lines experienced a wider bid-offer spread.
The top price was paid for 345 20-21 month-old mid-October shorn Westwood blood Merino ewes scanned 100pc in-lamb to Poll Dorset rams at Temora in New South Wales.
First cross ewes scanned in-lamb sold to $467 for 88 17-18 month-old early August shown ewes scanned 124pc in-lamb to Poll Dorset rams at Cowra in NSW.
AuctionsPlus said sheep and lamb markets across Australia got back into their normal routine last week, after the last six weeks of holiday disruptions and ad-hoc January trading.
Larger numbers were felt through most major saleyards, with numbers exclusively offered through AuctionsPlus for the past week falling just short of 125,000 head, up 36pc.
While the influx of lambs through the physical saleyards was matched by robust demand, buyers continued to fight very hard for anything light, or young with breeding potential, AuctionsPlus said.
Last week there was an initial decline in online clearance rates on Tuesday, as several of the larger saleyards, including at Ballarat, Forbes, South Australia Livestock Exchange, and Naracoorte attracted the immediate interest of buyers. However, AuctionsPlus clearance rates increased steadily after the closure of the Tuesday sales, as buyers turned to the online catalogues to fill orders.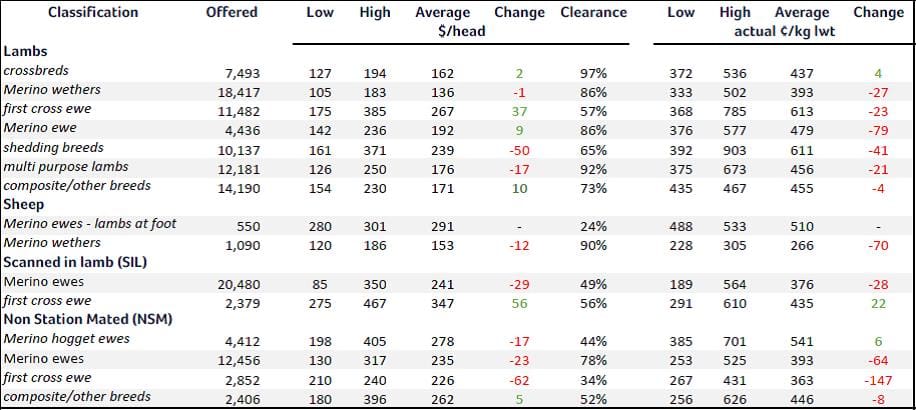 Source – AuctionsPlus.