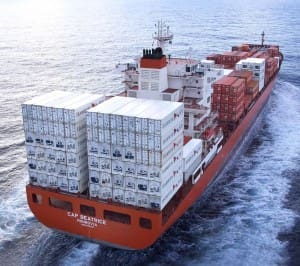 AUSTRALIA'S sheep meat market had a record May last month, with export demand and tightening supply helping it remain strong despite poor seasonal conditions, Meat & Livestock Australia said.
MLA said ongoing dry conditions have seen lamb slaughter numbers remain higher than expected, as many producers continue to offload stock. The overall number of animals going to processors is beginning to trend down, but eastern states lamb weekly slaughter average for June remains 8 percent higher year-on-year, at just over 367,000 head.
Eastern states mutton slaughter fell quite substantially over the last fortnight, taking into account the public holiday last week, with weekly slaughter averages for June down 43pc from the same period last year.
Click here to get the latest Sheep Central story links sent to your email inbox.
Sheep meat exports hit monthly record
MLA said Australian sheep meat exports in May totalled almost 43,200 tonnes shipped weight – the largest calendar month ever recorded for combined lamb and mutton exports.
The record month brought year-to-date lamb exports to 117,000 tonnes, an increase of 14pc on 2017 levels. This year-to-May total is the largest ever start to the year and has been driven by growth in all key destinations – the Middle East, China and the United States, MLA said.
Trade lamb indicator beats January peak early
MLA said despite the dry conditions, lamb prices have continued on an upward trajectory, with markets supported by strong export and processor demand. In mid-June, the Eastern States Trade Lamb Indicator climbed above 650¢/kg cwt for the first time since January, bringing it to within 2pc of the same time last year. The ESTLI opened last week at 647c/kg cwt and closed the week at 653c/kg.
The eastern states mutton indicator opened this week at 484c/kg cwt – 5pc lower year-on-year, although up considerably from the year-to-date low of 368c/kg cwt on February 19. The ES mutton indicator closed last week at 497c/kg.
Lamb saleyard throughput down year-on-year
National lamb saleyard numbers averaged 159,773 head per week in June-to-date, a 17pc decrease from this time last year – with more producers opting to go direct-to-works. Sheep yardings have averaged close to 75,000 head a week in June so far, up 12pc year-on-year.
Source: MLA.