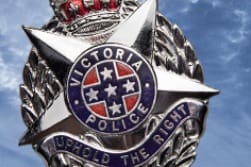 RURAL crime and how to steal some benefit from the tough dry season will be addressed at a Perennial Pasture Systems update at Stawell in Victoria next week.
The update in Stawell on Wednesday, 1 April will feature Acting Senior Sergeant Simon Grant from the Victoria Police's Stock Theft & Rural Crime Unit, who will discuss rural crime and the police response.
The Ararat-based officer will outline some preventative measures farmers can take and also emphasise the importance of identifying and reporting rural crime.
The event starts at 4pm and consultant Lisa Miller will present details of the new Meat & Livestock Australia Feedbase Adoption Projects which are based on producer's calls for pastures that persist and perform, healthy soils, less weeds, more feed and more sub-clover.
Dynamic Ag livestock consultant Steve Cotton from will follow with a topical presentation on the dry season and what was learned and what can be done next time. This will be a follow up to an informative session by Mr Cotton at a joint PPS/Agriculture Victoria dry season workshop in November.
The presentation will include management tips to help producers deal with the tough seasonal conditions.
After a dinner break, PPS member Charlie de Fegely will facilitate a panel session on fertiliser strategies after a dry year. The panellists will include, Andrew Speirs, Meridian Ag; Lisa Miller, Southern Faming Systems and Shane Dellavedova from Dellavedova Fertiliser Services. They will answer questions relating to this year's fertiliser plans and other issues of soil fertility.
PPS project manager Rob Shea said the Pasture Update would benefit all landholders and cover topical issues such as coping with the dry conditions and stock theft.
"It has been a tough year so the aim is to help producers finish off the dry season successfully," he said.
The pasture update will be at the Stawell Entertainment Centre in the town hall at 65 Main Street. The cost is $25 per person which includes smoko and dinner.
The Perennial Pasture Systems farmer group and the Grassland Society of Southern Australia are partnering to host the MLA Pasture Update. For further details contact Rob Shea on 0438 521357.