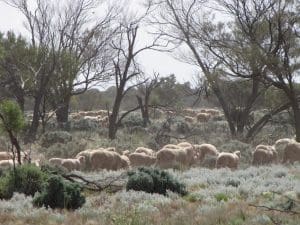 SELECTING resilient sheep for rangeland conditions will be the focus of a workshop at Milparinka in far north-west New South Wales next month.
The workshop will be presented by Productive Nutrition's San Jolly and hosted by the Local Land Services Western Region on Thursday, March 9.
Sheep producers are expected to gain valuable insights into how to get the best returns from their livestock at the workshop. Ms Jolly said she focussed on nutrition and reproduction in a workshop in the area a few years ago.
"What I am doing this time is focussing more on genetic selection; where do you put the genetic emphasis and how do you select for more resilient sheep, because basically you can feed anything but is that necessarily the most economic approach.
"Instead of feeding everything to increase your reproductive rate, it's really coming from an approach of identifying those sheep in your flock, which are already doing it, under whatever conditions you happened to have thrown at them, and putting your selection emphasis there."
Click here to get the latest Sheep Central story links sent to your email inbox.
Ms Jolly said the role of electronic identification in the selection process will also be outlined. She will also cover the relative economics of different breed choices in the rangelands.
The free workshop has been organised with Meat and Livestock Australia to focus on topics important to landholders wanting to maximise livestock production and profitability.
Some of the topics to be covered include the nutritional requirements of sheep of all classes and achieving production goals within a rangeland environment.
There will also be information around the role genetics play in animal production, including identifying the traits most important to your enterprise, understanding Australian Sheep Breeding Values and establishing breeding objectives.
Senior Land Services officer, Mitch Plumbe is encouraging all landholders in the western region to attend the workshop, even if they are experienced in sheep nutrition and breeding.
"Workshops and days like these always raise new ideas and generally lead to good discussions between participants and presenters, so it is highly valuable for all landholders.
"Not only do landholders have the chance to learn from the presenters and industry experts, but they can learn from each other as everyone has different levels of experience and ideas," Mr Plumbe said.
"We are expecting strong interest in the day as ultimately if you can better meet your stocks nutritional needs and gain a better understanding of what role genetics play, it will help you maximise production and profitability."
While the workshop is targeted at sheep, concepts will be transferrable to goats and cattle. The one-day workshop will be held at the Albert Hotel, Milparinka on Thursday March 9 with morning tea and lunch provided.
Register with Mr Plumbe by March 6 on (08) 8082 5204 or [email protected].
Source: Local Land Services Western Region.