AUCTIONSPLUS sold just under half of a smaller commercial sheep and lambs offering last week.
The overall offering decreased to 65,370, down 31 percent from the previous week.
Apart from ewes with lambs, unjoined shedding breed and composite ewes, prices in most categories were either generally firm or lower.
AuctionsPlus said the decline in numbers was reflected across most categories and all states, although scanned in-lamb first cross ewe listings increased 65pc and the number of joined Merino ewes lifted 28pc.
Post-sale negotiations played a major part in securing further sales, with the overall clearance rate reaching 48pc, up from 27pc at the immediate conclusion of sales.
Crossbred lambs averaged $118 for the 75pc of the 11,076-head offering that sold. The average price was $2 up on the previous week. The ultimate clearance increased from the 35pc sold during the auction. At Yetman in New South Wales, 1000 August/September 2022 drop White Suffolk cross mixed sex store lambs weighing 39kg lwt made $123, or 319c/kg lwt, to a South Australian buyer.
Scanned in-lamb Merino ewe listings were flat at 11,873 head and averaged $158, down $12. A 46pc clearance rate was achieved, up from 28pc at the conclusion of the sale. At Gooram in Victoria, 483 rising two year-old Merino ewes  weighing 48kg lwt and scanned in-lamb to Merino rams sold for $196, $46 more than the reserve price.
AuctionsPlus offered 1202 scanned in-lamb shedding breed ewes and these averaged $207, down $41. A 74pc clearance rate was achieved. At Cunnamulla in Queensland, 126 rising six year-old Dorper ewes weighing 70kg lwt and scanned in-lamb to Dorper rams made $174, or 250c/kg lwt.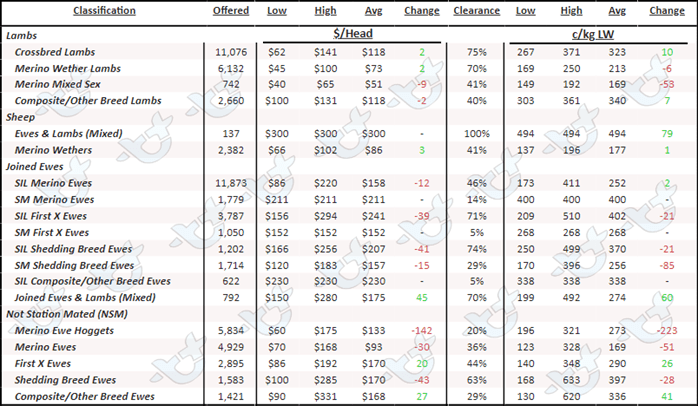 Source – AuctionsPlus.