Latest listings on Jobs Central:
Feedmill supervisor – Charlton Feedlot (Teys Australia)
Regional key account manager – feedlot & corporate (The Aicila Group)
Territory manager – Livestock Supplements/Animal Nutrition
Production supervisor (Rangers Valley)
Manager Operations – Northern Beef Futures (WA Dept of Ag)
Development Officer – Mosaic Agriculture (WA Dept of Ag)
Sales Professional – Meat Trader (Riverlea Australia)
Business Manager – Central Queensland Livestock Exchange (Livestock Link)
Plant Manager, Kill floor foreman & QA Officer/Meat Inspector (Crown State Meat Co)
Milling and Feeding Hands (Ladysmith Feedlot)
Export Meat Sales (Australian Meat Group)
Territory Manager (Elanco)
Instructor (Sheep) – Longreach Pastoral College
Outstation supervisor – Miranda Downs (Stanbroke)
Click here to access these and other exciting meat and livestock supply chain jobs currently listed on Jobs Central.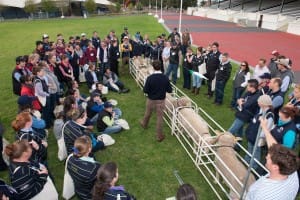 For this week's recruitment article, we diverge from our normal subject matter focussed on attracting and retaining staff, to the equally important topic of workplace health and safety.
A RECENT analysis of injuries in the farm sector shows an incredible 193,632 working weeks were lost across the agriculture, marine and aquaculture industries over a four year period.
Across all of these sectors, injury claims and associated costs were worth more than $300 million over the period from 2009-2011.
The research was commissioned by the Primary Industries Health and Safety Partnership (PIHSP) and conducted by Tony Lower at the Australian Centre for Agricultural Health and Safety. Data was drawn from coronial information, workers compensation data and self-reported/near-miss incidents.
"On average, there were almost 50,000 weeks of work lost each year across the included industries. This means about 930 people across these sectors were off work due to injury every week," Mr Lower said.
While there have been significant improvements in workplace health and safety in primary production over the past 20 years, there was still a lot of work to be done.
It was important to remember that workers compensation data significantly under-estimates the burden of injuries – in fact probably only 50-60 percent of the true cost – due to people who don't report incidents or make a claim, Mr Lower said.
"On top of that, it doesn't capture any injuries to non-workers like children or visitors to a farm," he said.
"The analysis shows the five leading types of injuries consistently accounted for around 75 percent of all claims. This illustrates the importance of developing and targeting cost-effective approaches to assist farmers and other primary producers in addressing these core issues."
As always, quad bikes and vehicles featured consistently as a danger across land-based industries.
"Being able to go to work and come home to family and friends in a safe and injury-free capacity is an ideal that everyone supports," Mr Lower said.
The research pinpoints the major risks in each of the sectors, which will help businesses in preparing their own WHS action plans and more generally ensure that pro-active strategies are put in place to manage and control those risks.
"This will lead to a genuinely safer workplace," Mr Lower said.
The report breaks down agriculture into different sectors.
In the category "Grain-beef, or grain-sheep" for example, it understandably finds somewhat different industry risks than another sector, like cotton.
Within the grain-beef/sheep segment, the top five injury risk areas over the four-year period of study, were broken into two categories, for injuries leading to 0-4 days time lost and 5+ days time lost. In order of frequency they were:
0-4 days time lost:
Being hit by moving objects (gates and yardwork was a common source)
Being injured by an animal
Falls from a height (may relate more to grains work more than beef/sheep, but mills may be a contributor)
Vehicle accidents
Hitting stationary objects
5+ days time lost:
Falls from a height (may relate more to grains work than beef/sheep)
Vehicle accident
Being hit by an animal
Muscular stress associated with handling objects
Falls on the same level.
The greatest risks of death and injury in the grain/beef-sheep segment included motor vehicles (including quads, bikes, utes, trucks), livestock (including horses and cattle/sheep), machinery and equipment PTOs, electricity.
Costs associated with injury claims in this segment from 2008-09 to 2011-12 amounted to $39,476,000 – easily the highest of all industry categories.
"These high-risk activities/agents should provide some guidance to the typical issues that need consideration by employers and employees," the report said.
"However, it is vital to note that each business will have its own production system in place, and hence will have a diversity of risks beyond those listed here. Attention to consider and address all high-risk issues in any agribusiness is a WHS requirement."