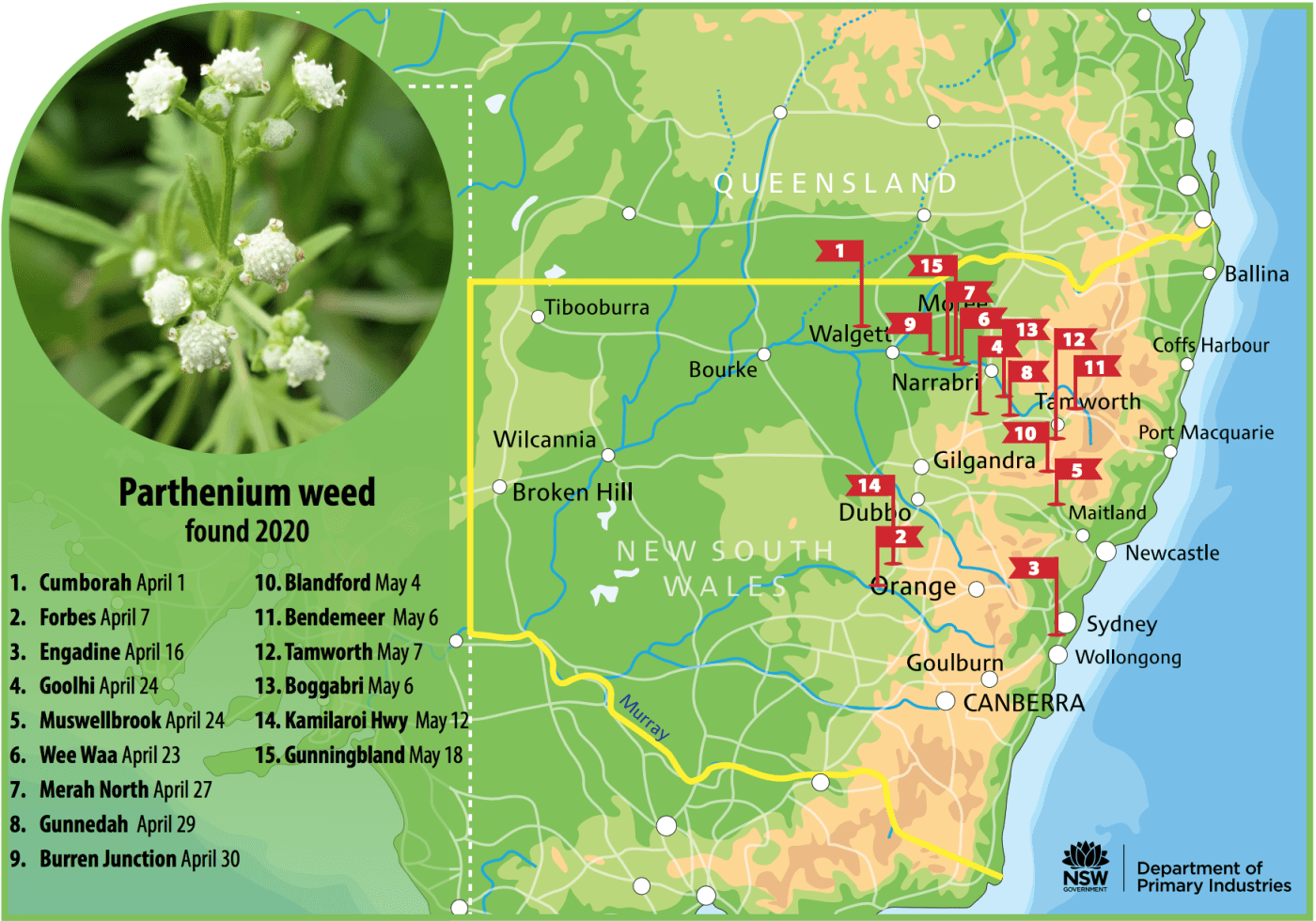 aThe NSW Department of Primary Industries (DPI) has praised the actions of landholders and council weeds officers in detecting parthenium weed with the latest finds in Tamworth, Bendemeer, Blandford, Boggabri, the Kamilaroi Highway and Gunningbland near Parkes.
NSW DPI State Priority Weeds coordinator, Philip Blackmore, said landholders who contact their local council or the department when they find suspect plants are helping to keep the state free of the devastating weed, Parthenium hysterophorus.
"Following a call to the NSW DPI Biosecurity Helpline from a landholder at Bendemeer, who found plants he thought were parthenium weed, we were able to direct the Tamworth Regional Council to the site," Mr Blackmore said.
"Council staff inspected the area and found parthenium plants, which were removed by trained weeds officers.
"Thanks to the actions of this landholder and others across the state, local councils have been able to ensure all 15 infested sites were treated and managed to prevent further spread of the weed.
"Investigations are underway to trace the origins and distribution of livestock feed and hay, which were the suspected sources of a number of these infestations."
Other infestations, including those along the Kamilaroi Highway most likely came from vehicles or machinery which have travelled through Queensland where parthenium weed covers an area of 18 million hectares.
NSW DPI continues to coordinate statewide surveillance of known high-risk areas in collaboration with local councils, weed control authorities and Local Land Services regional weed coordinators.
People who suspect they have seen parthenium weed can call the NSW DPI Biosecurity Helpline, 1800 680 244 or their local council for plant identification and assistance.
Parthenium weed spreads rapidly, is dangerous to grazing animals and reduces crop and land values. Contact with the plant or pollen can cause serious allergic reactions in people.
NSW has benefited from the success of the program to detect and eradicate parthenium weed since 1982.
Source: NSW DPI. More information about parthenium weed and how to identify the plant at different growth stages is available from NSW DPI, https://weeds.dpi.nsw.gov.au/weeds/partheniumweed; with an online form to record any weed sightings,
https://biosecurity.transactcentral.com/Biosecurity/servlet/SmartForm.html?formCode=report-a-biosecurity