ONLINE AuctionsPlus wool sales retracted as the record-breaking physical wool market appeared to run its course last week.
AuctionsPlus market operations supervisor Tom Rookyard said the AWEX Eastern Market Indicator lost 25 cents on Tuesday and a further 18 cents on Wednesday to close off at 1572c/kg clean.
"The retraction of the market stemmed buyer and exporter interest online as only 16 bales were traded over the past week."
The previous week, when the EMI surged to 1614c/kg, AuctionsPlus sold 802 bales up to August 17.
Click here to get the latest Sheep Central story links sent to your email inbox.
The top-priced online lot last week was a four-bale line of Australian Superfine merino fleece wool that sold for 1604c/kg greasy or 2387c/kg clean. It tested at 15.9 micron, with yield of 67.2 percent, an average staple length of 78mm, tensile strength of 31 Newtons/kilotex and vegetable matter content of 1.1pc. The line was branded Morillo and offered by Primaries of WA.
An 11-bale line of 20.1 micron fleece sold for 1003c/kg greasy or 1541c/kg clean. It had a yield of 65.1pc, an average staple length of 1`00mm, tensile strength of 22N/kt and 2.8pc vm.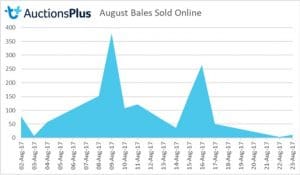 Mr Rookyard said AuctionsPlus sold 1491 bales during August.
"This is across 125 different grower brands and 24 different brokers."
Mr Rookyard said there had been suggestions that the physical auction market may continue firm this week, with an easier tendency. An estimated 44,000 bales are on offer across all three selling centres. The West Australian market recommences this week after a one-week recess.
Source: AuctionsPlus.