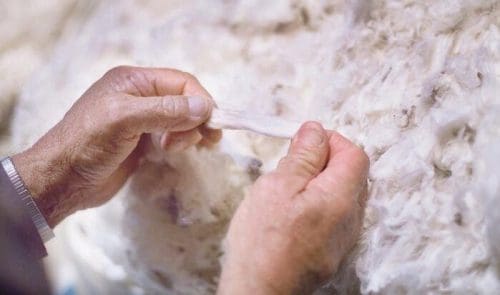 ONLINE wool sales dropped last week as physical auction sales also took a beating with falling prices, with the AuctionsPlus online offer board selling 753 bales, 355 bales fewer than the previous week.
Online buyers bought 120 18 micron bales and 199 bales of 20 micron wool on AuctionsPlus. The top priced 18 micron line for 1390c/kg greasy, or 1844c/kg clean, and the 20 micron wool sold to 1030c/kg greasy, or 1343c/kg clean.
The top priced lot sold online was seven-bale line of 15.5 micron Australian Superfine AAAFINE wool that made 2040c/kg greasy, or 2798c/kg clean. The line had an average staple length of 86mm and 0.4pc vegetable matter content. It was branded 'Macquarie Hills/JJ/ASWGAT372' and was offered by Nutrien Ag Solutions – Victoria.
Dumping facility compounds shipping issues
At physical auctions across Australia, 48,760 bales were offered last week, down from 50,836 bales the previous week, but the passed-in rate almost tripled to 15.2 percent as the benchmark Eastern Market Indicator fell 33 cents to A1319c/kg clean, or US1019c/kg.
AuctionsPlus said the market fall might have been due to the ongoing logistical issues of shipping wool overseas, particularly to Europe, with freight costs to Europe being seven times more expensive compared to freight costs to China. During the week, a wool dumping facility in Melbourne experienced a breakdown of machinery, creating a backlog at the two remaining wool dumping facilities, leading to shipment delays of up to three weeks, AuctionsPlus said.