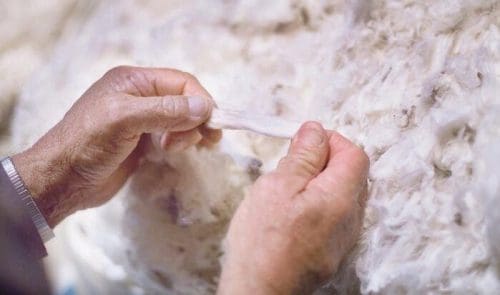 DEMAND on the AuctionsPlus wool offer board steadied in November, with 1869 bales sold for the month, 891 fewer than were traded October.
AuctionsPlus said November's physical auction market ended on a high, with the benchmark AWEX Eastern Market Indicator closing at 1343c/kg as all selling centres recorded price increases.
On AuctionsPlus, finer micron wools sold in the highest quantities in November, with 251 bales of 17 micron wool, 225 bales of 18 micron and 342 bales of 19 micron wool traded on the offer board.
There was also 20 bales of 14 micron wool sold in small lots by various brokers, for an average of 1981c/kg greasy.
The top-priced lot for the November was a four-bale line of 14 micron wool that made 2705c/kg greasy, or 3700c/kg clean, under the brand 'Cressbrook' and offered by Nutrien Ag Solutions – New South Wales. The line had an average staple length of 90mm and contained 2.7 percent vegetable matter.
AuctionsPlus said as the Christmas draws closer, it is anticipated the offer board will experience a spike in sales as it continues to operate through the usual Christmas recess in physical auction sales.
Source: AuctionsPlus.