AUSTRALIAN-BASED New Zealand shearer Aidan Copp has shorn 605 lambs in a day to convincingly reclaim the world eight-hour crossbred lamb shearing record just two months after losing it late last year.
Copp had held a previous record of 524 lambs in eight hours, before fellow expatriate Floyde Neil shore 527 lambs in Western Australia on 13 November last year.
However, at the Stockman Stud property at Lovely Banks at Melton Mowbray in Tasmania on Saturday, the 37 year-old New South Welsh-based shearing contractor shore 605 first cross ewe lambs to give Tasmania its first world shearing record.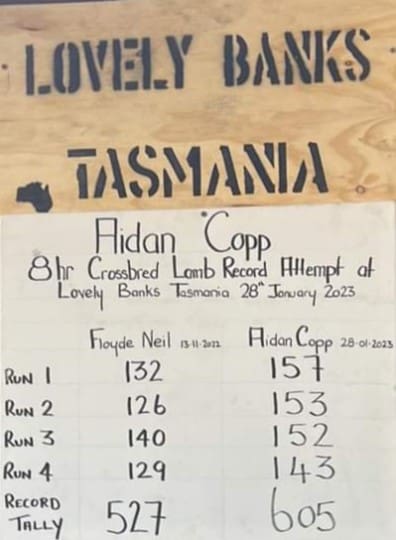 With a support crew that included a personal trainer, massage therapists, fellow world record-breaking shear Darin Forde and numerous other helpers, Aidan managed run tallies of 157, 153, 152 and 143, or about one lamb every 48 seconds.
Aidan said he had no doubts he could set a new record.
"I put in the effort and training every day after work, so I worked hard at it and I knew I had the fitness to get me there.
"But you can't do these records without a good team of people to help you set up the shed and help you on the day – it's the support network and some good sheep."
Aidan said his heart had sank a bit when Floyd Neil broke his old record.
"So I just had to think out of the box and I knew I wanted to get off the mainland and get to Tassie where I knew there was some good sheep, and it all just came together."
He didn't expect to have to defend his record for a while.
"I think I'm safe for a wee bit.
"It's the most put on any shearing record in the last two years anyway."
Aidan said his record efforts are about a drive for excellence in speed, quality and technique.
"It also makes my normal working day in the shed a bit easier on the mind, because I'm always searching for a goal … it makes the days go a bit easier when I've got a goal in sight."
He hopes the record shearing attempts and the speed shearing competitions help the youth in the community that there is another side and level to the hard daily struggle in the shed during the week.
Aidan said he would rest for a couple of days and then start making plans to attempt the eight and nine hour Merino ewe records, and possibly again in Tasmania and in a state that hasn't had a world shearing record such as Queensland.
"In late May I will be back into it."
Aidan said record-shearing drive had also led to improvements in his technique and he was always ready to offer tips to younger shearers on footwork and a healthy diet.
"A good shearer is like a good ballroom dancer … you are manoeuvring, bending with your legs and flowing around the sheep.
"The more calm I can have the sheep, the easier and faster I can get around it," he said.
Aidan said he expended the energy equivalent of running two marathons. Before he started training six months ago, he weighed 88kg. He believed he lost about four kilograms on Saturday to finish at 74 kilograms.
Record bid judging convenor Paul Harris, of North Canterbury, said the ewe lambs shorn in a Friday-afternoon wool-weigh averaged 1.047kg of wool each, comfortably above the required 0.9kg.
Stockman Stud partner Tim McShane said he was impressed by the level of organisation behind the record shearing of his August-drop first cross ewe lambs.
"I was quite surprised how professional the whole thing was handled.
"As far I know that's the first time there been one (a shearing record) set in Tasmania," he said.
For seven years running, Aidan has also been one of five shearers who hold the current world eight-hour five-stand strong wool lamb record of 2910 lambs with individual tallies of Ringa Paewai 618, Willie Hewitson 603, Aidan Copp 586, Jock MacDonald 564 and George Parker 539.
It just wasn't Amy's day
On the Friday before Aidan's successful shear, New Zealand shearer Amy Silcock made and unsuccessful attempt on the world women's eight-hour crossbred ewe shearing record in a small northern Wairarapa woolshed.
Amy, of Tiraumea, started the day at Ross Na Clonagh, near Pahiatua, at 7am needing an average of almost 93 sheep in each of the four two-hour runs to beat the women's 8-hours strongwool ewes record of 370 set in England last August. But she was consistently behind the target, with runs of 87, 84 and 87 before finishing with 90 in the last two hours to the 5pm finish with 348 for the day.
It was a day on which little went her way on the big sheep, after a sample shorn for a pre-attempt wool-weigh on Thursday averaged 4.084kg of wool a head, well above the minimum requirement of 3kg.
World Sheep Shearing Record Society judges praised her for making the attempt and the tenacity in continuing when the target was out of reach.
Silcock, who is already in the books as a member of a four-stand women's record-breaking crew, vows to learn from the experience and have another attempt in the future.
Meanwhile, Australia-based South Island shearer Aidan Copp is set for a Saturday attempt on a crossbred lambs record in Tasmania.
Starting at 7.30am Tasmania time, Copp is targeting the eight-hour crossbred lambs record which has been in place just over two months, since Floyd Neil, from Taumarunui, shore 527 near his base in West Australia on November 13.