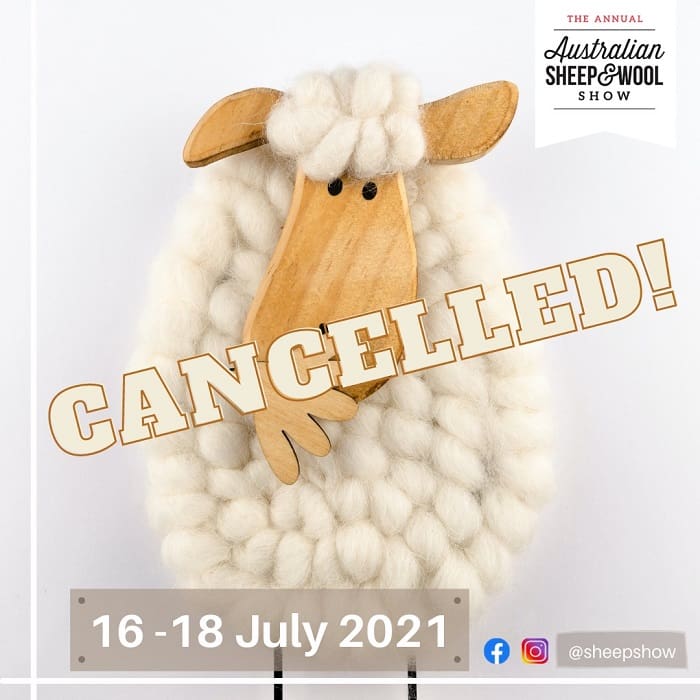 AUSTRALIA'S top sheep and wool show should have been told earlier that a statewide lockdown was planned last week, according to the show's chief executive officer Margot Falconer.
And Ms Falconer has welcomed calls by the Nationals for compensation to major sheep industry and farming events inconvenienced by COVID-19 pandemic control measures.
The Victorian Nationals said today Mr Andrews must pay for the trail of financial disaster his latest snap lockdown has left across regional Victoria.
Ms Falconer said she continued planning the show in Bendigo on the basis of comments Thursday morning that Victorian Premier Daniel Andrews would not lock the state down, but didn't know officially until "well after 5 o'clock".
"People knew, but we didn't."
Many sheep breeders had only been at the Bendigo showgrounds for hours last Thursday for the show's start on Friday when they were told of the state-wide lockdown, meaning many faced hours of driving to return home.
"They could have stayed home," Ms Falconer said.
"And also inference was that it would only be Melbourne, but some knew at 3pm."
Ms Falconer said "half the government didn't know, but the half the world did."
She believed that the AFL appeared to have early knowledge of the lockdown, although Premier Andrew has rejected suggestions that any early notice was given to the code to enable players to be flown interstate for COVID-Safe fixtures.
Ms Falconer said she was desperately hoping there would be some funding to cover the show's losses.
"But I just have a feeling that it gets leaked to some people early, but we wouldn't be on their radar.
"I'm very disappointed that we weren't afforded the respect."
Ms Falconer said with more forward notice of the possibility of a lockdown the show organisers would have had an opportunity to put sheep breeders and others in a 'holding pattern' to defer their travel until the formal government announcement.
"We had people ringing and we said 'No, the Premier was on the television this morning and he said he won't shut the state down, or words to that effect."
'Wrong' to suggest the AFL had early notice of the lockdown – Andrews
Mr Andrews said yesterday it was "simply wrong" to suggest that the AFL had forward notice of the lockdown.
He said it was not beyond the AFL and other organisations who had dealt with border closures and other outbreaks to make decisions "in anticipation of things that may or may not happen."
"We had people fly from Adelaide recently on a punt and then were flown back without playing a game.
"So just because people sometimes happen to get it right or not doesn't mean that they had an inside running," he said.
"We stand here and we are very keen that everybody knows as much as we can possibly share with them as quickly as we possibly can."
State Government must offer financial assistance – Nationals
The Nationals Leader Peter Walsh said the Australian Sheep and Wool Show at Bendigo, the largest event of its type in the world, was to open last Friday.
"Exhibitors, stall holders, sponsors and advertisers put a year's work into absolutely nothing – and there has been no sign of any kind of compensation.
"This show has run for 140 years and has disappeared under a wave of Labor party self-congratulation that they finally found a COVID case in regional Victoria to justify locking up the whole state," he said.
"And the buck won't stop here, Speed Machinery Field Days (August 4/5) and Hamilton Sheepvention (July 31/August 3) must also now be on the chopping block; and Elmore (October 5/7), which got canned last year, is also looking unlikely."
"Agricultural events across Victoria are already on their knees after being postponed through 2020 and again this year.
"The very existence of many of these agricultural shows now depends on the Andrews Labor Government providing certainty to go ahead," Mr Walsh said.
"With other agricultural shows, such as Sheepvention, scheduled to start later this month, the Victorian Government must immediately offer clear advice and support to event organisers.
"Daniel Andrews needs to provide a plan and a pathway for these industry events to operate with confidence, the continued uncertainty is not just causing financial pain and confusion now, it is threatening the ability of many of these events to survive beyond 2021 if they cannot recoup money already spent," he said.
"If these events are shut down due to COVID outbreaks, then the Andrews Labor Government has no choice; it must offer financial assistance to the organisers so we don't see the end of these trade shows."
Mr Walsh said it could not prove that some people or organisations might not have been notified of the lockdown earlier than others, but did not believe any sector should be favoured with early notice of COVID plans.
"But it is ironical that the AFL teams made the decision to leave the state almost immediately before lockdown."
Mr Walsh said if there are concerns that some sectors of the sporting events industry had prior warning before the public announcement "that is something that is very concerning and is a major issue about trust in the government decision-making process and the announcement of those decisions."
Premier Andrew did the right thing – Falconer
Ms Falconer said in view of all the numbers of COVID cases, Premier Andrew did the right thing locking the state down.
"But he could have told us sooner."
She said it was dangerous for sheep breeders to be arriving at the showgrounds and then packing up and trying to get home by midnight last Thursday.
Ms Falconer welcomed the Nationals position on compensation and said she was still receiving invoices for services, labour and products for the event that was not held.
"This will cost us hundreds of thousands of dollars."
Ms Falconer said she was hoping the State and federal Governments will support the event with compensation and grants as they did last year, when the show was also abandoned.
"We got $70,000 from the Federal Government that kept us going.
"There were state grants that we could apply for – I got two $10,000 grants at one stage and a $5000 grant, and JobKeep3er, but at the moment we are getting nothing," she said.
"So last year we hadn't invested $400,000 into the event – we pulled the pin on the 1st of April.
"This year we've done everything."