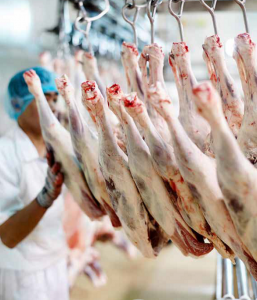 NATIONAL lamb slaughter increased in January this year, despite grid and saleyard price indicators also rising on year-on-year bases.
The latest data from the Australian Bureau of Statistics indicate that national lamb slaughter for the first month in 2017 reached 1.9 million head – up 2 percent year-on-year and was 8pc higher than the five-year average.
Meat & Livestock Australia said the overall increase was underpinned by a 6pc year-on-year lift in processing in Victoria to 867,911 head in January, an 8pc increase in New South Wales to 412,060 and a 13pc jump in lamb slaughter in Western Australia to 248,906.
In South Australia, the number of lambs slaughtered in January declined 10pc to 300,122 head. Tasmania processed 3pc fewer lambs at 60,008 head and Queensland's lamb slaughter fell 84pc to 4971.
MLA said national over-the-hook and saleyard lamb indicators averaged dearer in January, compared to last year. The national heavy trade lamb (20-22kg) over-the-hook indicator averaged 554c/kg cwt for the month, up 7pc year-on-year, and the trade lamb saleyard indicator was 11pc higher, averaging 582c/kg cwt.
The national average lamb carcase weight in January rose 1pc on the same time last year, to 22.83kg a head – which saw total lamb production increase 4pc to 43,233 tonnes.
MLA said that looking back at the seasonal conditions over the same period, parts of eastern NSW and Victoria, and the southern tip of WA recorded below average rainfall in January, while most of central Australia and the remainder of WA experienced a wetter than average month. Conditions were patchy in south east Queensland and western NSW – although large parts received average falls during the month.
Mutton slaughter lower year-on-year
MLA said the number of sheep processed across the country in January was 11pc lower than last year at 645,132. All states except New South Wales recorded a year-on-year decline in slaughter during the month. NSW's mutton slaughter increased 29pc to 163,198.
The decline in sheep processed in the other states included: Victoria down 9pc to 282,745; WA down 27pc to 91,962; SA down 4pc to 91,628; Tasmania down 46pc to 14,937 and Queensland down 98pc to 662.
A 4pc lift in the average sheep carcase weight to 24.5kg in January meant the national mutton production figure was offset slightly to 15,796 tonnes – down 7pc from year-ago levels.
Source: MLA.