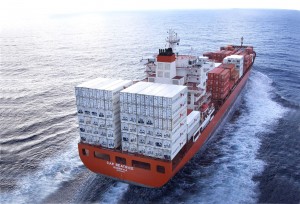 AUSTRALIAN mutton exports declined almost 20 per cent last year as production decreased.
Meat & Livestock Australia has reported that Australia exported 150, 921 tonnes of mutton last year, a 19 percent fall on the record 2014 shipments.
Despite the considerable contraction from year-ago levels – the result of lower production – mutton shipments for 2015 were still 17pc higher than the five-year average.
Middle East still the biggest mutton market
MLA said the Middle East is still Australia's largest mutton export market, despite shipments dropping 7pc to 48,938 tonnes last year – though this was 10pc above the five-year average.
The fall in volumes to the Middle East was largely attributed to reduced mutton production, rather than subdued demand and this trend is expected to continue in 2016.
For the January to November period, mutton production totalled 183,166 tonnes – a 14pc decrease on the corresponding period in 2014. Sheep slaughter was down 16pc year-on-year for the 11 months, at 7.7 million head, and is estimated to be 16pc lower for 2015, at 8.5 million head.
MLA said mutton exports to China in 2015 fell 42pc year-on-year, to 28,894 tonnes, mostly due to high domestic sheep inventories in China during the year. Australia's market share remained fairly steady at around 35pc.
Volumes to South East Asia eased 1pc on 2014 levels, to 25,436 tonnes. Shipments to Malaysia fell 6pc to 14,963 tonnes and dropped by 2pc into Singapore to 8,883 tonnes. But mutton exports to Indonesia in 2015 more than doubled the previous year, reaching 1569 tonnes.
Australian mutton exports to the United States last year in 2015 fell 2pc to 12,971 tonnes, but remained 51pc higher than the five-year average.
All mutton cuts registered decreases
Almost all mutton export cuts registered decreased volumes in 2015, compared to the previous year:
– Carcases were down 20pc, to 66,046 tonnes
– Legs were down 20pc, to 26,504 tonnes
– Breast and flap were down 16pc, to 20,175 tonnes
– Manufacturing was down 9pc, to 15,852 tonnes
– Shoulders were down 26pc, to 9,261 tonnes
Average carcase weights dip in November
The average sheep carcase weight in November last year was marginally lower than year-ago levels but remained 3pc above the five-year average – at 24.61kg. More efficient ewe management programs are just one of the several contributing factors towards increasing carcase weights over the past 15 years, MLA said.
Mutton exports forecast to fall further
MLA said Australian mutton exports for 2016 are forecast to decrease further as a result of lower production. Shipments are projected to drop 12pc year-on-year in 2016, to 127,000 tonnes, before starting to recover out to 2019, to 145,000 tonnes. Lower mutton production is also expected to continue in 2016 – down 13pc to 173,000 tonnes cwt.
Source: Meat & Livestock Australia