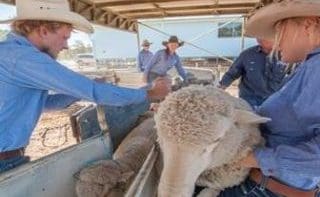 MORE young people started working in agriculture in the four years to 2021, but the National Farmers Federation has warned this could reverse if the Albanese Government went ahead with its industrial relations law reforms.
The ABARES Insights Snapshot of Australia's agricultural workforce has shown that between the 2016 Census and the 2021 Census the number working in agriculture increased 4.7 percent to 239,093.
ABARES executive director Dr Jared Greenville said there was also a slight rise in the proportion of women (to 33pc), young people (to 25pc) and people from culturally and linguistically diverse backgrounds (to 13pc) in the agricultural workforce over the same period.
​"Around 1.8pc of workers in the agricultural sector were Indigenous, and 1.6pc had a disability that meant they required assistance with core activities.
​"In 2021, 46pc of people working in agriculture were employed in sheep, beef cattle and grain farming, which is a slight contraction since 2016," he said.
NFF chief executive officer Tony Mahar said it was promising to see an uptick in workers moving into agriculture as more people realise the industry offers boundless career options.
"It's especially uplifting to see growth in the number of young people and females entering the industry, we've long pushed for greater gender balance and positioning agriculture as an industry of choice.
"What is frustrating is the Albanese Government is forging ahead with complex reforms to industrial relations laws that will make it harder for farm businesses to put on employees," he said.
The NFF is concerned the Federal Government's Fair Work Legislation Amendment (Closing Loopholes) Bill:
establishes a regime for dictating pay arrangements in labour hire and service contractor situations;
gives the Fair Work Commission power to make decisions beyond its traditional workplace remit, authorising it to control commercial arrangements;
gives unions enhanced rights to enter farms unannounced, potentially intruding on personal privacy and creating biosecurity, animal welfare, and health and safety risks, and;
changes the meaning of casual employee that will deprive businesses of certainty and flexibility.
"We might finally be seeing progress in addressing our domestic workforce challenges, yet if the government progresses on the union-driven path it's on, this is likely to be short lived and might even send the statistics in the other direction."
Dr Greenville said it was interesting to see the subtle shifts in the data that cover employed people aged 15 years and older whose main job held in the week prior to Census night was in agriculture.
​He said most people who work in agriculture live in regional areas (81pc) and the majority (68pc) were in full-time employment.
​"Australia's farm population is constantly changing.
"I'm sure plenty of people in the agricultural sector will be heartened to see more young people getting involved in the industry," he said.
​"The gradual trends seen in the statistics are a reflection of changes in agriculture and Australia's workforce more broadly."
​The ABARES Insights: Snapshot of Australia's agricultural workforce report is available on the ABARES website: https://www.agriculture.gov.au/abares/products/insights/snapshot-of-australias-agricultural-workforce.