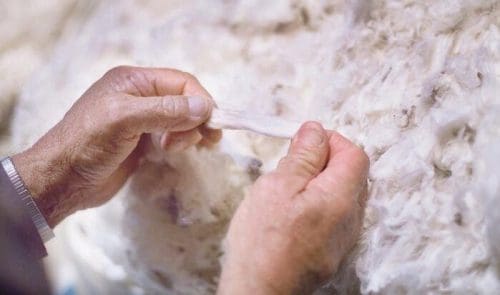 WOOL sales boomed on the AuctionsPlus online offer board last week as physical auctions also experienced increased demand.
Growers sold 1108 bales on the offer board for the week, an increase of 904 bales on the previous week.
Sales included 64 bales of 15 micron wool that made up to 2070c/kg greasy, or 2875c/kg clean. AuctionsPlus also sold 120 bales of 16 micron wool made to 1835c/kg greasy, or 2503c/kg clean.
The top-priced lot online for the week of 2115c/kg greasy or 3019c/kg clean was paid for two bales of 14.9 micron Australian Superfine SUPAAAFINE wool under the 'Currawong/TYO/ASWGA AB/299' brand. The wool had an average staple length of 79mm with 0.3 percent vegetable matter and was offered by Nutrien Ag Solutions in Victoria.
Medium and boarder wool in demand at auctions and online
AuctionsPlus said the interest in medium and broader wool types at the AWEX auctions was consistent with demand on its offer board, where sales of 18-20 micron wool accounted for 49pc of transactions.
While Chinese orders were pending, there was enough interest from other international buyers to stimulate competition on the Australian wool auction market, AuctionsPlus said.
Growers offered 50,836 bales at physical open cry auctions last week. The benchmark AWEX Eastern Market Indicator rose 4 cents on Tuesday, 19 cents on Wednesday and a further 7 cents on Thursday to close at 1342c/kg clean.
Despite the increase in bales offered, demand was robust, with a 6.6% passed-in rate for the week, AuctionsPlus said.
The northern auction selling centre experienced the largest increase for week, with its EMI lifting 24 cents to 1421c/kg on Wednesday.
As prices continue to steadily increase, Australian wool production appears to be bouncing back with a predicted 2.1pc rise in shorn wool production from 2020, AuctionsPlus said.