MORE scanned in-lamb Merino ewes helped increase the AuctionsPlus sheep and lamb listings last week.
In the first week of winter, AuctionsPlus sheep and lamb numbers increased 15pc to 65,899 head – the first week-on-week increase in numbers since April.
Quality feed in paddocks has supported ewe condition and pregnancy scanning percentages, AuctionsPlus said, leading scanned in-lamb Merino ewes to lift by almost 20pc of the weekly offering, with prices averaging $47 higher.
Average prices also lifted in five of the six lamb categories this week, with first cross ewe lambs seeing the largest change, up $58 to $279. Merino ewe lambs were the only category to ease, declining a further $10 on last week, to average $175. The second consecutive weekly decline for Merino ewe lambs was underpinned by a disappointing 36pc clearance rate – largely influenced by the weekly offering more than doubling to 3822 head.
Robust demand for shedders continued
The robust demand for shedding breeds continued this week, with average prices for shedding lambs jumping $40 $301. Despite a 15pc contraction in listings, clearance rates for the category dropped back to 70pc this week, down from 92pc the previous week. The top price for the category was achieved by a line of scanned empty Australian White ewe lambs from Kingscote, South Australia, that made $381.
Prices for the crossbred and composite/other breed lambs averaged $4 and $9/head higher respectively this week. The crossbred lamb offering contracted by 55pc to 2033 head, and robust demand pushed clearance rates up to 96pc.
Ewe and lamb units are in demand
AuctionsPlus said there was large increase in demand for ewe and lamb units last week, with all of the 1575 head offered selling. Increased demand lifted the average price $16 to $321. Buyers bought 80pc of the 3209 Merino ewes with lambs and the average price increased $7 to $287.
Scanned in-lamb Merino ewes were the bright spot of the joined ewe categories, with 66pc of the 12,790 head offered averaging $47 higher at $279/head. This contrasted with the average price for scanned in-lamb first cross ewes dropping $11 to $312.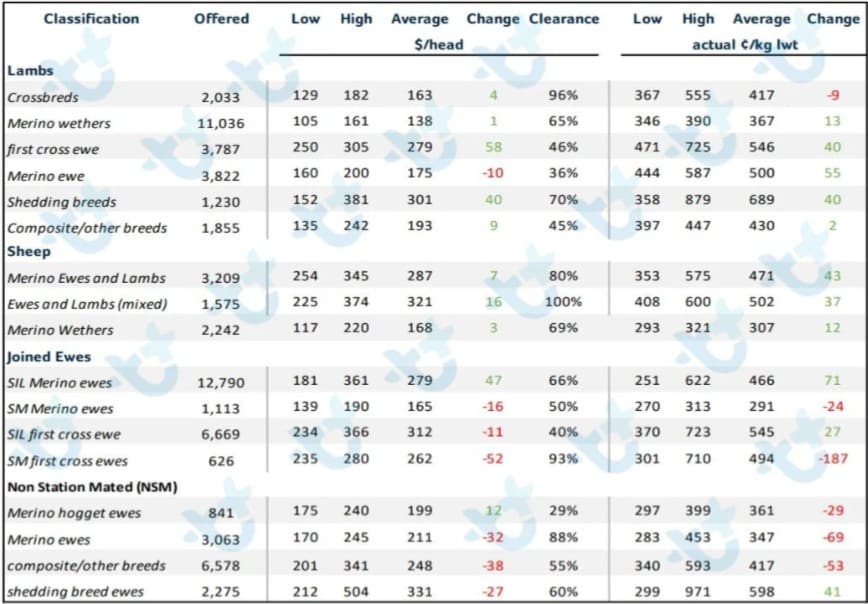 NOTE: Prices as at 5pm Thursday, 3rd June 2021.