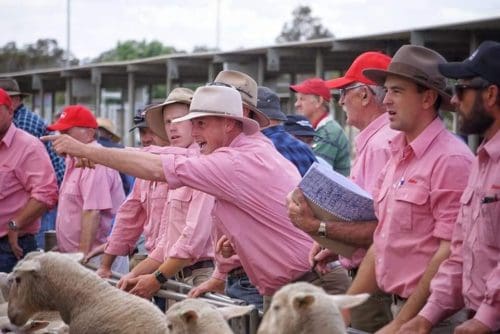 AUSTRALIAN sheep producers should benefit from increased lamb production coinciding with demand recovery, according to the Rural Bank's Australian Agriculture Mid-year Outlook 2021 report.
The report also said that Australian wool producers will be supported by increased production and recovering wool prices.
It said Australian lamb production is expected to increase in the second half of 2021 and trend 2-3 per cent higher than a year ago.
Favourable seasonal conditions in most regions should support increased lambing rates and drive an increase in lamb slaughter while carcass weights are likely to remain similar to 2020.
Although lamb exports to China for the year-to-date were 7.4 percent lower than 2020, the bank said Australian lamb exports to the United States in the year to June 2021 have increased by 17.1pc compared to 2020, despite total exports only increasing by 0.1pc.
The report said mutton exports to China increased by 29.7pc in the same period and Australian mutton production is expected to increase in the second half of 2021, but remain below average.
The Eastern States Trade Lamb Indicator (ESTLI) is forecast by the bank to follow a typical seasonal pattern and rise during winter before easing through spring as the Spring flush of lambs hits the market. Mutton prices are likely to remain well supported by tight supply and strong demand.
Wool aided by seasonal recovery
With the Australian Wool Production Forecasting Committee, forecasting 2021/22 shorn wool production from 67.9 million shorn sheep to be 305 million kilograms greasy and favourable seasonal conditions helping rebuild the national sheep flock, the bank said wool buyers are increasing production of woollen apparel and suits as the northern hemisphere winter approaches.
Australian wool prices are expected to trend slightly higher in the second half of the year as recovering demand limits downside while increased supply caps price upside, the bank said.
Cause for optimism for Australian commodities
The report analyses the performance of six industries – cattle, cropping, dairy, horticulture, sheep, and wool, and the broader economy. Rural Bank's chief operating officer, Will Rayner, said taking seasonal and trade conditions, and COVID-19 into account, there was cause for optimism on the outlook for Australian commodities.
"Although South Australia and western Victoria experienced a dry start to 2021, the probability of a wet winter is looking positive for the production of most commodities and will assist continuing efforts to rebuild livestock numbers.
"Market sentiment has improved on early signs of recovery from the impacts of COVID-19 as outbreaks in key export markets slowly come under control and vaccine distribution rolls out," he said.
"Economies globally will continue to emerge from lockdowns of varying degrees and consumer confidence should rebound, strengthening demand for wool and dairy – commodities that experienced a decline in 2020.
"Demand is also strengthening for the horticulture and red meat sectors and we are anticipating Australia will produce a winter crop 13 per cent above average, with generally optimistic forecasts for rainfall," Mr Rayner said.
According to the report, Rural Bank believes the economic recovery will be tempered by lingering impacts from the pandemic that weigh on commodities and restrictions on international travel that is driving labour shortages, reducing air freight capacity, and slowing the recovery in regions heavily dependent on international tourism.
In addition, the possibility of further restrictions on trade access to China will continue to provide some uncertainty. The anticipated benefits of the Australia-United Kingdom Free Trade Agreement will also not be realised until well after 2021.
"Restrictions on access to the Chinese market continue to weigh on the performance of some commodities, particularly horticulture and beef.
"Despite this, Australian farmers continue to demonstrate their resilience as they diversify into alternative markets," Mr Rayner said.
To read the full report please click here.