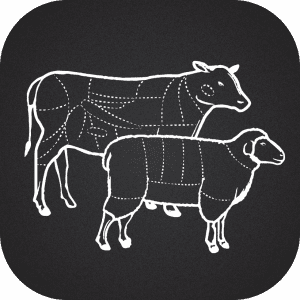 MLA has launched a new smartphone app to help consumers improve their knowledge of meat cuts and cooking methods to give them more confidence when it comes to cooking beef, veal, lamb and goat.
The 'Meat Cuts' app educates consumers on how to best match meat cuts with cooking methods with just a few taps on their mobile.
MLA's Regional Marketing Manager – Australia Lachlan Bowtell said matching the right cut with the appropriate cooking method was vital for a great cooking outcome.
"Consumers want to be sure they're going to get an enjoyable meal, so developing an app that helps consumers increase their understanding of cuts and their most appropriate cooking method was a step to filling the knowledge gap, and increasing the number of beef, lamb, veal and goat dishes in meal repertoires," he said.
"We know from research that many consumers find the variety of beef and lamb cuts available confusing. Chuck might be called chuck steak, but works best as a slow cook option and should not be grilled as a steak. No chuck at the supermarket? Try some blade or gravy beef. That's the type of information 'Meat Cuts' can provide," said Mr Bowtell.
The app features 41 beef cuts, 25 lamb cuts, 21 veal and 20 goat cuts, explaining where on the animal each cut originates, the most suitable cooking methods and why.
The app also features 107 recipes, one recipe for each cut, along with alternative cut suggestions for each recipe should the selected cut not be available at retail.
Mr Bowtell said MLA research has found that after price and nutritional value, difficulty in preparation and a lack of cooking confidence were the main concerns for consumers when purchasing beef or lamb.
"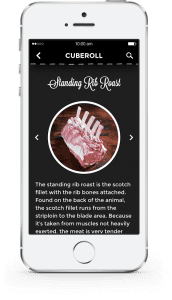 Providing consumers with a resource like the 'Meat Cuts' app to boost their confidence in cooking with different cuts helps break down the purchasing barriers and increases their knowledge about different cooking options.
"Each red meat meal success they have will spur their confidence to perhaps try something new down the track – but ultimately it's the information they can find in the app on matching cuts and cooking methods that is essential to helping them achieve that success," added Mr Bowtell.
'Meat Cuts' is the third consumer-focused smartphone app released by MLA, joining the 'LambRoast' and the highly acclaimed 'SteakMate' app which has had more than 44,000 downloads since its launch in November 2013. All are available through the Apple iTunes App Store or Google Play.
Source: MLA. To see App on iTunes store click here