MERINO and first cross ewe lambs fell on AuctionsPlus last week as the overall offering dropped 6 percent to 73,089 head.
AuctionsPlus said the value over reserve increased marginally to $7, and despite the smaller offering the clearance rate declined to 61pc.
The market results were mixed, with price fluctuations experienced throughout the categories.
Despite the smaller offering of lambs and the stronger market the previous week, prices and demand were subdued, especially for Merino lambs that had experienced stronger trends.  AuctionsPlus listed 54,473 lambs, 8pc fewer.
The unjoined ewe offering also reduced, to 16,350 head, while more than 1000 joined ewes were offered and sold to buyers.
AuctionsPlus the number of new season lambs offered edged slightly higher to 56,114 head and there was a 61pc clearance rate at a marginally stronger average price of $57/head. Processors and feedlot buyers remained active and secured just over 1100 head or 2.48pc of those sold.
The number of crossbred lambs listed dropped 5pc to 33,544 head, AUctionsPlus said some confidence has returned and the average price increased $5 to $63. The clearance was marginally higher at 58pc. At Bigga in New South Wales, 550 mixed sex June 2023 drop Poll Dorset cross lambs weighing 35kg lwt sold for $74 or 214c/kg to a buyer in Boweya, Victoria.
The composite lamb offering dropped 4pc to 4465 head and the average price rose $10 to $61, with a healthy 86pc clearance, AuctionsPlus said. The top price of $71.50 was paid by a Dubbo buyer for 290 June/July 2023 drop composite wethers at Orange, NSW.
AuctionsPlus said three separate lots of August drop composite wether lambs totalling 2200 head from Chatsworth in Victopria sold to a single agent based in Murray Bridge, South Australia. Two 700-head lots of 37kg lwt lambs sold for $62, and 800 32kg lwt lambs sold for $47.
The online offering of Merino ewes lifted 18pc to 5219 head. The average price increased $14 to $90 and there was a 63pc clearance. A Victorian vendor at Mount Benson sold 2110 26-27 month-old Merino ewes weighing 59/60kgs in six lots for an average of over $106.
Note: Prices as at 5pm Thursday, 16th November 2023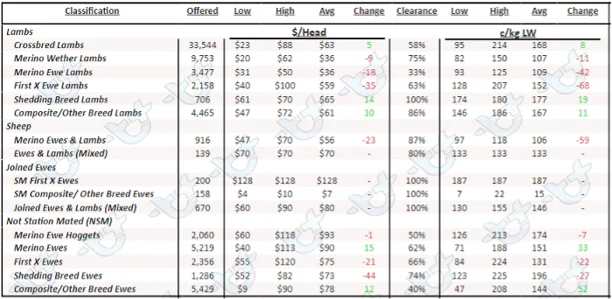 Source – AuctionsPlus.