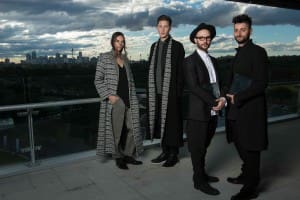 Melbourne design label Strateas-Carlucci will represent Australia in the International Woolmark Prize finals next year.
The design duo of Peter Strateas and Mario-Luca Carlucci won the menswear and womenswear categories in the Australia regional finalists of the 2014-2015 prize.
The Melbourne pair won the regional final with designs inspired by the late indigenous artist Emily Kngwarreye, using woven woollen fabric with a water-repellent finish from Woolmark licensee Nikke.
The woven fabric had a water repellent finish and complementary detailing between their menswear and womenswear outfits allowed the duo to showcase their brand across the two categories, Australian Wool Innovation said.
"We're absolutely thrilled, overwhelmed and grateful for this amazing opportunity," explained Mario Luca Carlucci shortly after the announcement at an awards event at The Stables, Royal Randwick Racecourse, Sydney.
To explore Australian Merino Wool's diversity, the designers said they broke up their look into three elements — overcoat, suit and shirt.
For the overcoat they created a three dimensional knitted jacquard design using digital programming, referencing Kngwarreye's Awelye series work of traditional Aboriginal body painting with its thick and abrupt wavy lines.
"Based on the concept of binary oppositions, we created a hybrid knit, which was knitted, then laminated by using a stabilising fusing, which then could be used the same way a woven fabric could, through cut and sew, performing the opposite of what it is intended to become.
"Here, we could create minimal, and more rigid and tailored structures," Mario said.
For the suit they used Merino wool that was treated with a flexible polyurethane resin post-knitting to bind the wool fibres together. This imparted shrink resistance and water repellent ability, without compromising handle too much. It also gave shrink and crease resistance.
The designers used superfine Merino wool "easy-care" yarn in the shirt, blending 20 percent silk to create a beautiful sheer fabric, that drapes and hangs from the body. The yarn allows the product to be washed and dried in domestic washing machines and dryers without shrinkage, color running or pilling.
Strateas-Carlucci won $50,000 for each of their two wins, plus the opportunity to represent Australia in the IWP finals. The world final for menswear will be held during London Collections: Men in January 2015, and the womenswear final will be held in Beijing in March 2015.
For the next six to eight months, the winning designers will be required to develop a capsule collection in Merino wool, to be showcased during an event to highlight five world finalists.
The five finalists will compete for the prestigious International Woolmark Prize, a cash prize of $100,000 and the opportunity to be stocked in the most important retailers of the world.
The designers' complete Woolmark capsule collection, INDIGITAL, is inspired by Kngwarreye's work and explores the notion of tradition versus contemporary in fabric, as illustrated in Kngwarreye's work.
"Hence the use of technologies in fabric innovation such as resin-coated wool (water repellent)," Mario said.