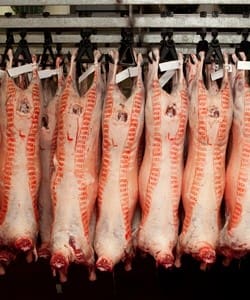 AUSTRALIAN lamb slaughter for 2014-15 has finished above the previous year, but the number of sheep processed declined, according to Meat and Livestock Australia.
The number of lambs killed during the 2014-15 fiscal year reached 22.87 million head – 4 percent higher than the previous year, and 15pc above the five-year average (Australian Bureau of Statistics).
The rise in slaughter was driven by increases across all south-eastern states, while the number of lambs processed in Queensland and Western Australia declined over the past 12 months.
During 2014-15, Victorian lamb slaughter lifted 6pc to 10.4 million; New South Wales processed 5.2 million lambs, 7pc more, and the number of lambs processed in South Australia rose 4pc to 3.8 million. Tasmania processed 780,000 lambs, up 2pc on the previous year.
However, in WA, the lamb kill was back 1pc to 2.4 million and in Queensland 313,000 lambs were processed, a fall of 23pc.
MLA said the average lamb carcase weight increased 2pc in 2014-15, to 22.15kg. As a result, total Australian lamb production was 7pc higher compared to the previous year, at 506,605 tonnes carcase weight.
MLA's forecast for lamb slaughter and production in 2015 (calendar year) is 22.25 million head, and 492,000 tonnes cwt.
Mutton slaughter slips 10pc
Following 12 months of high sheep slaughter during 2013-14, the number of sheep processed in Australia in 2014-15 declined 10pc to 9 million, although this was still 25pc above the five-year average.
MLA said all states recorded lower sheep kill numbers in 2014-15, compared with 2013-14. Victorian sheep slaughter was back 3pc to 3.5 million, NSW processed 2.1 million, back 14pc. SA's sheep kill fell 14pc to 2.1 million. In WA, 1.3 million sheep were processed, 15pc less, and in Queensland the mutton kill was down 19pc to 470,000. Tasmania's sheep slaughter contracted 10pc to 227,000.
MLA said a 5pc lift in the average sheep carcase weight during 2014-15, to 23.64kg/head, was not enough to offset the decline in slaughter. Australian mutton production was back 6pc on the previous year, at 214,446 tonnes.
While sheep slaughter has been historically high, and as a result, the core breeding flock has been contracting, lamb marking rates have been continuously improving, MLA said.
"This is important, and will need to continue improving to enable the industry to generate consistent supplies of lambs and sheep throughout the year, and from year-to-year."
Source: Meat and Livestock, Australian Bureau of Statistics