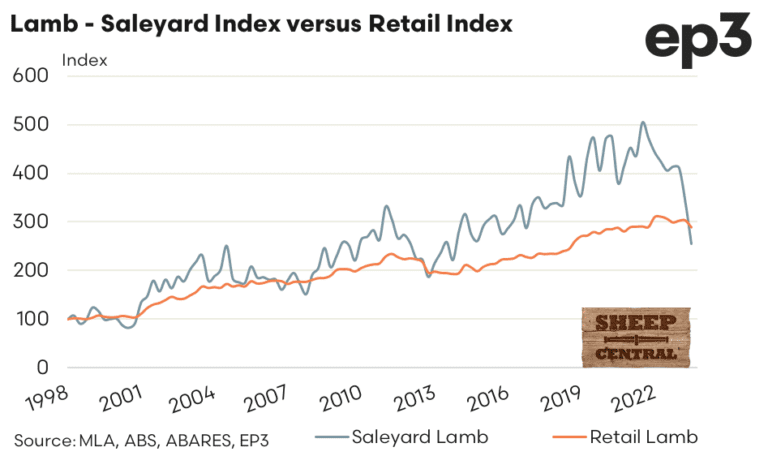 IN collaboration with analysts Episode 3, Sheep Central in July launched a new quarterly series looking at trends in the sheep producer's typical share of the retail consumer's spend on lamb products.
A similar analysis was compiled by Meat & Livestock Australia for four years, before being discontinued by the industry service delivery company back in December 2016. The project was originally launched during the 2012 MLA annual general meeting.
Sheep Central sought, and gained MLA's approval to resurrect the discontinued series, based on clear reader interest. The same formula is used to compile the new set of results as originally used by MLA (see explanation at base of page).
Episode 3 and Sheep Central now jointly publish a report each quarter, soon after ABS quarterly retail beef price data is released. This typically happens around late July, late October (today's report), late January and late April. Click here to read our first report in the series, published three months ago.
The exercise sees national saleyard lamb prices in carcase weight terms being converted into an estimated retail weight equivalent and compared to average retail lamb prices, as reported by ABS.
September quarter result
Since our last update (from the June quarter 2023) lamb prices at the saleyard have dropped 25.5 percent over the September quarter with the lamb index down from 343 to 255 points. At a retail level, average sheep meat prices declined by 4.7pc with the index moving from 303 in June to 289 in September.
In terms of retail dollars per kilo average, retail lamb prices have dropped from $19.40 to $18.49 over the past three months.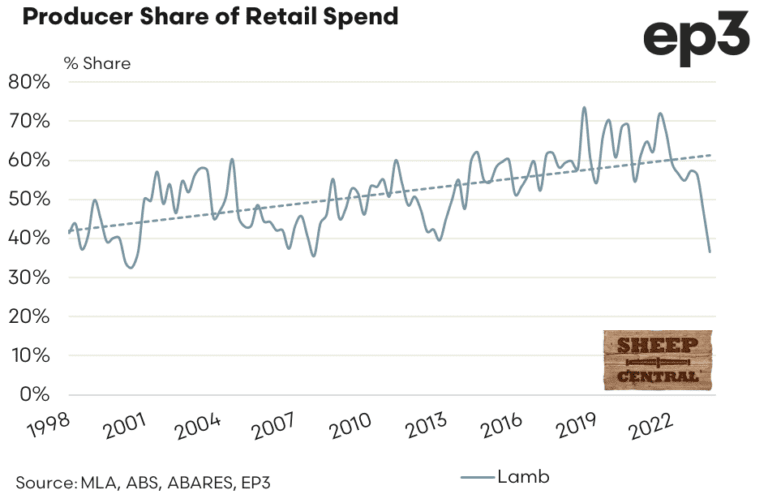 Share falls to lowest level since 2007
As lamb saleyard price falls continue to outweigh retail price declines, the lamb producer share of the retail spend continues to track lower too.
The producer share for the retail spend on lamb has dropped to the lowest level seen since the final quarter of 2007, when it dropped to 35.4pc. The September quarter of 2023 saw the share of the retail lamb spend ease from 46.7pc in the June quarter to 36.5pc in September.
About the producer share of retail calculation
The lamb producer share of the retail dollar is calculated using a range of assumptions. The national saleyard lamb indicator is used as the benchmark livestock prices. Livestock prices are collected by MLA's NLRS. Converting the carcase weight price to an estimated retail weight equivalent price is achieved using a retail meat yield of 68.7pc.
The indicative retail meat prices are calculated by indexing forward actual average lamb prices during each quarter, based on meat subgroup indices of the Consumer Price Index, provided by ABS. These indices are based on average retail prices of selected cuts (weighted by expenditure) in state capitals.
The producer share is calculated by dividing the estimated retail weight equivalent livestock price by the indicative retail price.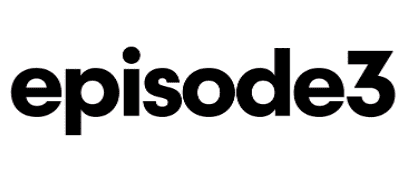 Episode 3 (EP3) is an independent, data-driven market analysis service that provides premium insights and reports to the agriculture industry, food manufacturing sector and their associated markets. Through robust analytical assessment, EP3 assists agricultural stakeholders to make better, more informed decisions that drive profitability. The company is experienced in producing high-quality reports used by government, RDC's and corporate entities. In addition, EP3 is available on a retained basis with clients to provide on-going and bespoke information to assist in their sales or purchasing process. Click here to access the Episode 3 website.