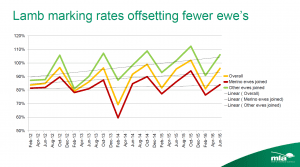 LAMB marking rates were offsetting lower ewe numbers and stable monthly lamb slaughter rates have had a positive effect on prices in recent years, MLA market information manager Ben Thomas said today.
In a July 2016 sheep and lamb projection update briefing as part of a Mecardo webinar, MLA market information manager Ben Thomas said lamb slaughter for 2016 has been revised higher, from 22 million to 23 million.
It will be fourth consecutive year of record lamb production and slaughter, he said. Lamb slaughter is expected to fall next year, but only down to 22 million head, before increasing again.
"The export demand is likely to remain quite robust and our exports are likely to be fairly similar."
But Mr Thomas said from 2014 onwards the more stability in the average number of lambs processed each month has certainly been a very positive factor when it comes to price support.
"And probably against what you would expect, is that while lamb slaughter had been increasing, prices also increased with this."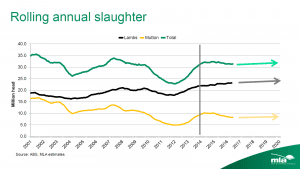 Stability in lamb supply had gone a long way to reducing price volatility, but other contributing factors had been the lower $A-US dollar exchange rate, declining production in New Zealand and increasing processing capacity.
Mr Thomas said the very positive rainfall outlook of 70-80 percent chance of above average falls in most areas over the next three months was a good thing and MLA survey results revealed that fir the first time in about four years some producers were saying conditions were "too wet".
The latest industry survey also showed that the average lamb marking rates was trending higher and were expected to offset the lower ewe numbers.
"While the number of breeding ewes has been declining, that has certainly been offset by improved marking rates.
"That's a trend that we do expect to continue over the coming years," he said.
"Where we are now is at an unusually stable time – for the last 6 or 7 years, the sheep flock has really hovered around that 70-71 million head mark and our expectations are for it to continue to remain at around that 70-71 million mark."
But Mr Thomas said the number of breeding ewes continued to decline, from about 50 million in 2006 to around 40 million ewes now.
"Our expectations are for that number to keep going down to approximately 38 million by the time we get to 2020."
But with the improved and improving marking rates, the greater number of lambs on the ground will offset that declining breeding ewe flock, meaning the overall sheep flock should remain fairly steady.
Mr Thomas said by 2020, MLA expected about 24 million lambs would be slaughtered annually and combined with declining mutton kill levels, it was unlikely that the total number of small stock processed by then would be more than in early 2015.
"That in itself is also likely to be a factor that will assist price support going forward."
New Zealand was also unlikely to increase its lamb production significantly in the next couple of years, he said.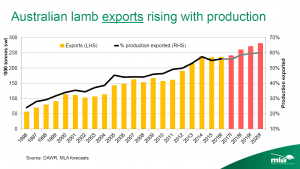 Mr Thomas said with lamb slaughter expected to go from 23 million head this year to about 24 million by 2020, with average lamb carcase weights slowly increasing and domestic consumption steady at about 9-10kg per capita, MLA expected more Australian lamb to be exported.
Australia expected to export about 240,000 tonnes in 2016, up 5000 tonnes on last year, and equating to about 58 percent of production. By 2020, about 280,000 tonnes of lambs was expected to be exported, about 60pc of production.
The stable Aussie dollar was expected to continue to work in exporters' favour and assist the export competitiveness of Australian product, he said. Reduced cold storage volumes in China, easing Chinese tariffs and reducing NZ production were also expected to continue to assist the Australian lamb market.
Mr Thomas said since 2011 the proportion of lambs being exported as whole carcasses has increased significantly, especially to the Middle East from Victoria and Western Australia, and to north America from New South Wales.
Click here to read the full July update to MLA's sheep industry projections.
Sources: MLA, Mecardo.