LAMB and joined ewe prices generally improved on AuctionsPlus last week, as rain forecasts improved and listings tailed off.
The online selling platform offered 48,836 head last week, a decrease of 9 percent.
With forecasts of more rain on its way in the eastern states, seasonal conditions are encouraging restockers and feeders to look closer at the lamb market, while the clearance rate for the joined ewe categories decreased, AuctionsPlus said.
Lambs dominated last week's offering, and four out of the six categories experienced average price increases. Despite the higher week-on-week listing of 27,255 head, it seemed that the widespread wet conditions underpinned confidence, resulting in strong prices and clearance rates across most lamb categories, AuctionsPlus said.
Merino wethers registered the highest number of listings at 11,776 head, up 3087 head on the week prior. The wethers offered made $118-$204 and averaged $155, up $14, with a clearance rate of 80 percent. In contrast, Merino ewe lambs fell in value this week, with the 2249 head making $151-$253 to average $202, down $29, although 93pc were sold.
Crossbred lambs sold from $114-$205, to average $164, up $10, and first cross ewe lambs made $225-$275, to average $265, up $17. Shedding breed lambs observed the highest average price increase for the week, of $259 ($138-$350) for the 1604 offered – up $55, with an 88pc clearance rate.
Joined ewe average prices ease
AuctionsPlus said the joined ewe offering eased last week, with only 17,609 head listed. The reduced supply was met with softer demand, with clearance rates averaging 53pc across the categories. With seasonal conditions very good across many states, producers appear to have seized the opportunity to be selective on when to hold and sell breeding stock, AuctionsPlus said.
The average price for scanned in-lamb Merino ewes fell again, slipping $7 to $243, within the range of $171-$321, for the 5465 head offered. Scanned in-lamb first cross ewes sold from $220-$362 to average $310, up $19, and composite/other breed ewes made $177-$485 to average $340, up $91.
The scanned in-lamb shedding breed ewes sold from $340-$496 to average $420, up $144, boosted again by a line of Aussie White cross ewes in Armidale that made $496.
There were lower offering of joined or station mated ewes, with two of the three categories declining in average price. The joined Merino ewes sold from $131-$175 to average $153, down $62, and with a low clearance rate of 38pc. Similarly, joined shedding breed ewes sold from $211-$394 to average $314, down $197, but at a clearance rate of 94pc.
Unjoined ewe lines experienced a further fall in average prices last week, and only two lots of Merino hogget and shedding breed ewes changing hands.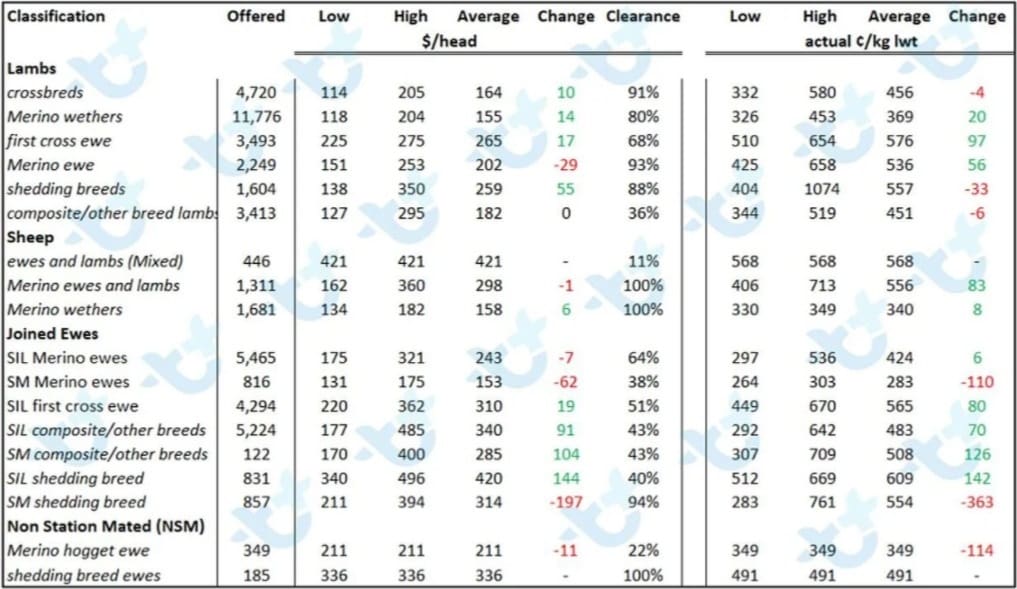 Source – AuctionsPlus.