"Where you want to be is always in control, never wishing, always trading, and always, first and foremost protecting your butt." – Paul Tudor Jones
IT was another difficult week for the spot wool market.
All qualities lost ground under the combined weight of a slightly larger auction offering, stronger AUD and the continuing unrest across the globe.
Unfortunately, this inaction has infected the forward markets. Even buyers who have been looking to hedge their modest forward sales have found difficulty in finding sellers even at flat to cash. The only trades this week were in the nearby window with end November trading 19 microns at 1410 cents and 21 micron at 1300 cents. These levels represented par to last week's close and were a clear premium by weeks end.
Limited bidding has resurfaced through to the first quarter of 2024 on wool finer than 19.5 micron. Once again, the levels are close to current cash but to date have attracted little interest. With 45,000 bales on offer and the AUD continuing it's correction, we are likely to at best a flat market. Sales are Wednesday and Thursday next week to accommodate the public holiday in Melbourne for the Cup.
With that in mind, a quote from Warren Buffet seems appropriate: "Risk comes from not knowing what you are doing. Risk management is what separates a trader from a gambler.".
This week's trades
November 2023 19 micron                           1410 cents                           5 tonnes
November 2023 21 micron                           1300 cents                           5 tonnes
Total                                                                                                               15 tonnes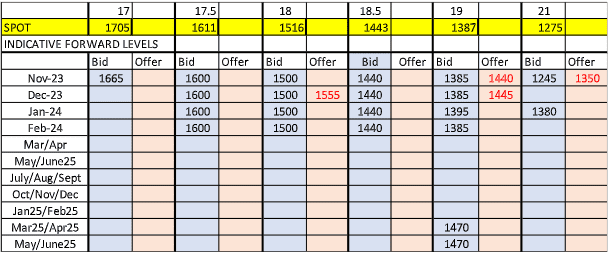 Source – Southern Aurora Markets.