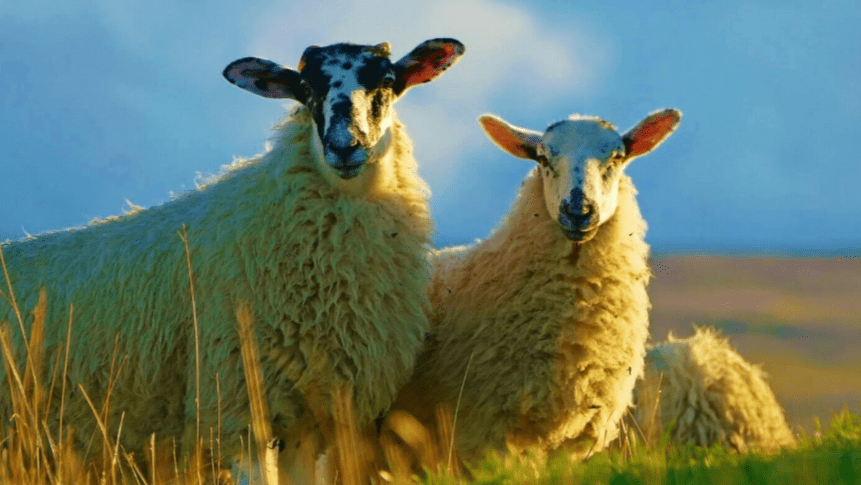 ANIMAL rights group PETA US has offered US$1 million to anyone who develops a vegan wool material that is visually, texturally, and functionally akin or superior to sheep's wool and is sold by a major clothing brand stocked in the United States.
The initiative has spark mixed reactions in the wool industry, but has the long-time opponent of the sheep and wool sector kicked an own goal by even launching the initiative? Some in the wool industry think so.
Irish poet and playwright Oscar Wilde famously said: "Imitation is the sincerest form of flattery that mediocrity can pay to greatness."
Australian Wool Innovation chief executive officer John Roberts said imitation is the greatest form of flattery.
"This is a stunt – nothing else can get close to all the natural benefits of wool in terms of feel, breathability, biodegradability and sustainability.
"It is not possible to copyright the word wool, but through the Woolmark we provide quality assurance for those woollen products," Mr Roberts said.
An International Wool Textile Organisation spokeswoman said the IWTO and its retail partners do not engage with PETA and have no comment, but WoolProducers Australia chief executive officer Jo Hall said clearly by running the campaign there is acknowledgement that wool is a superior fibre.
"No other fibre can or will ever compete with wool's credentials of biodegradability, stain and odour resistance, durability, fire resistance and insulation properties, along with the fact that it is natural and sustainable as opposed to fossil fuel-based or heavily chemical reliant fibres that are harmful to people, the environment and of course animals," she said.
"WoolProducers also takes exception to the term 'vegan wool', and made a submission into the 2021 Senate Standing Committee on Rural and Regional Affairs and Transport inquiry on the definitions of meat and other animal products, supporting truth-in-labelling to ensure that the integrity of the term 'wool' cannot be eroded by inferior manmade textiles.
"We've seen what happens when companies try to make heavily processed alternatives to naturally derived products," she said.
"In September this year, Bloomberg reported that alternative meat company Beyond Meat, suffered a 75 percent drop in share value since the start of the year."
In WoolProducers' Senate inquiry submission, Ms Hall said wool is universally defined as 'fibre from the fleece of a sheep and lambs and some other mammals.'
"However, increasingly we are seeing the misappropriation of this term under the guise of vegan wool.
"Wool has many natural attributes and properties that cannot be replicated by any manmade fibres, including biodegradability, breathability, odour resistance, durability, antibacterial and antimicrobial properties, insulating qualities and UV protection," she said.
"Many so called 'vegan wool' products are synthetic-based and have none of the qualities possessed by wool.
"Further, wool's eco-credentials cannot be matched by any other fibre, and it is often referred to as the world's most sustainable fibre," Ms Hall said.
"Wool has a lower environmental impact during its 'use phase' as garments, due to lower laundering frequency which outperforms synthetics, cotton and cellulosic fibres."
It's a bit of a stunt – Jackson
International wool consultant and soccer fan Jimmy Jackson said his first though was the the PETA initiative is "a bit of a stunt."
And he believed the chances of anyone ever coming up with a vegan equivalent to wool is about the same as Australia winning the World Cup. He said when synthetic fibres started to appear in the 1950s their aim was to try to emulate wool, even by putting crimp in an acrylic fibre.
"But it was still nowhere near wool.
Various other plant-based fibres had also been created, including Tencel, bamboo, hemp, pineapple and bi-polymer fibres. And Indian company has created a plant-derived fibre weganool.
Mr Jackson said the research and development resources to develop a new vegan fibre had diminished. This included developments like the closure of the CSIRO textiles division at Geelong, the German Wool Institute does not do any fibre work and the UK's wool research institute has closed down.
"I think the chances are next to zero; I mean first of all there just isn't the capability around the world today.
"There haven't been any new fibres on the scene for 20-30 years," he said.
"We haven't got the scientists anymore and you need someone who understands wool if you are going to try to emulate it."
Mr Jackson said the initiative is an own goal. He said the once often PETA protests had not been seen outside trade shows for years.
"Quite a few of the retailers and brands will enquire to see how it's going, but at the end of the day they will want to be able to buy it.
"To me, it's nearly impossible."
Mr Jackson was not aware of a body that was entrusted with protecting the word 'wool' in labelling, apart from some UK retailer defence of manufacturers claiming a 'lambs wool' content in garments.
PETA US said it has launched the Vegan Wool Challenge, with a US$1 million award (about AU$1.4 million) "to save sheep and incentivise clothing designers." The opportunity is open to applicants worldwide.
PETA Australia senior communications advisor Emily Rice said the challenge is exciting, "because it gives emerging designers the chance to make powerful, positive change for sheep and the environment." .
She claimed raising and shearing Australia's 74 million sheep is cruel and terrible for the planet.
"One way to reduce the nation's emissions is to move towards warm, cruelty-free, and sustainable plant-based wool."
PETA said it has released several investigations revealing cruelty to sheep in 117 wool operations worldwide, exposing cruel treatment of sheep that at times has led to the fining of shearers in Australia on animal cruelty charges. The group said that while many durable, stylish and warm materials aren't made from animal-derived materials, the creation of a viable, sustainable vegan wool would further help "abate suffering and mitigate the climate catastrophe – as the wool industry produces massive amounts of methane, erodes soil, and contaminates waterways."
Click on these links for the competitions challenge rules and T&Cs.