Latest listings on Jobs Central:
Trainee – Roma Qld (Stocklick Trading)

Grassfed Productivity Program Manager (MLA)
Admin & Recruiter – Rockhampton (Meat Processors Pty Ltd)
On-site Account Manager – Production Plant (Meat Processors Pty Ltd)
On-site Recruiter – Processing Plant (Meat Processors Pty Ltd)
On-site Recruitment Officer (Meat Processors Pty Ltd)

Software Technical Support Consultant (Elynx)
Livestock Buyer, Trainee Livestock Buyer (Bindaree Beef)
Feedlot Management Trainee (Rangers Valley feedlot)
Click here to access these and other exciting meat and livestock supply chain jobs currently listed on Jobs Central.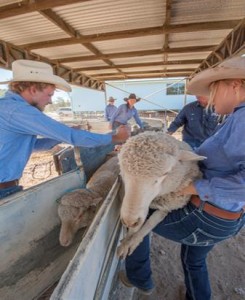 ATTRACTING the attention of applicants for your next employment opportunity can be tough for employers, and it applies as much for businesses along the sheep and wool supply chains as anywhere else.
In a strong job market, applicants have a lot more choice on where they might want to work.
As of May this year, there were more than 750,000 Australians looking for a job.
Recruitment companies around the world – including in Australia – are looking at what candidates want from a job. They found that finding the most qualified candidate with the best skills and matching them to the right employer was not always easy.
So what can businesses in the wool or lamb supply chains do to make job offers more attractive to applicants looking to take a new step in their careers? Here's some suggestions…
Don't take applicants for granted
Many companies take too long to find the perfect candidate.
Research has found businesses are often missing-out on applicants, who had taken another job offer after not being prepared to wait around for a decision.
MRINetwork, an international recruitment company, found applicants wanted the employer to make them feel highly desired to join their business.
Also, 83 percent of recruiters described today's market for employees as driven by applicants who recognised their higher level of value.
This highlighted the necessity for companies to seek out an expert recruitment partner, to better understand what applicants are looking for to avoid being disappointed.
Compensation is still key
The survey also found that the most common reason for rejecting a job offer was that applicants thought the wages and benefits package was lower than they expected.
Applicants today are much more fully-engaged in their employment situation and are more aware of their value in the broader job market. That applies as much in the cattle and beef industries as anywhere else.
Having more options means if the employer offers inadequate compensation levels, or unsatisfactory work-life balance, applicants might not be so willing to sign up.
The survey also revealed many companies were failing to sell the opportunities for the role enough to offer an enticing salary that job seekers felt matched their expectations.
Be decisive, or risk missing out
Many recruiters found that applicants were not prepared to hang around waiting for someone at a company to say "yes" and employ them.
Companies cannot hesitate if they need staff immediately.
Indeed.com.au and the Centre for Economics and Business Research found that Australian companies were leaving job vacancies unfilled.
They found on average 28pc of job vacancies remain unfilled after one month, and 13pc are still open after three months. Are the figures likely to be that different in the lamb and wool sectors?
The research talked about a 30-day tipping-point when it becomes much harder to find a candidate to fill a position.
When looking to make any type of hire, it is sometimes necessary to be the one who takes that risk – or be prepared to be the one who missed out on the opportunity to hire a great applicant.
Source: Meat Processors Pty Ltd