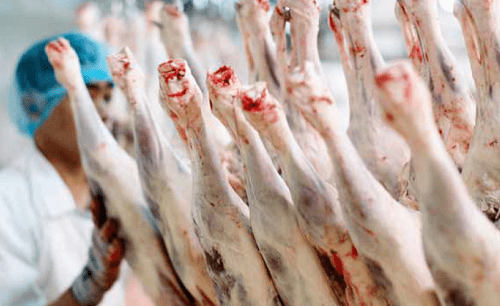 LAMB slaughter rates increased year-on-year in the first quarter of 2022, according to the latest Australian Bureau of Statistics data.
Australia produced 124,600 tonnes more lamb meat in the first quarter of 2022 than it did in Q1 2021.
Meat & Livestock Australia said this increase in lamb production was also achieved on the back of higher carcase weights. In addition, lamb slaughter increased 11,800 head (0.2 percent) to 4.97 million head, while lamb production in Q1 2022 rose 4pc on the December quarter.
In Q1 2022, lamb carcase weights were recorded at 25kg/head, which was 491 grams more than in Q1 2021. Lambs slaughtered in South Australia were the heaviest weighing in at 26.6kg, overtaking those process in New South Wales as the nation's biggest lambs.
MLA's manager of market information Stephen Bignell said the increase in lamb production in Q1 2022 reiterates MLA's projections that Australian lamb production will rise in 2022.
"Despite the impacts of COVID on processor capacity and supply chains this quarter, the rates of lamb slaughter increased, with NSW, Victoria and Queensland all experiencing YOY increases in lamb production," he said.
Lamb and cattle figures show more meat is coming from fewer animals
MLA said in the three months to March, average cattle carcase weights reached 324.4kg/head, 10.8kg heavier than at the same time last year, due to prices incentives to grow cattle out to heavier weights, improved seasonal conditions and more feedlot cattle.
Notably, Queensland cattle averaged 336kg/head in the first quarter of 2022, the highest of any state and 12kg higher than the national average. Conversely, Western Australian cattle were the lightest at 293.4kg/head; however, this is still considered a high weight for the state.
Mr Bignell said the high carcase weights are offsetting a drop in slaughter.
"The ABS results show that Australian cattle slaughter in Q1 was 1,335,400 head, a 5.8pc drop on the same quarter last year. Despite this nearly 6pc drop in slaughter number, Australian beef production dropped only 2.5pc due to the heavier cattle weights," Mr Bignell said.
"Overall, this demonstrates that despite the herd rebuild and supply chain disruptions shown in the first quarter of 2022, the red meat sector can produce more high quality meat from fewer animals," said Mr Bignell.
Source: MLA, ABS.