THINKING about a career move in 2015, or even a relocation to a new site in the kind of job you're currently doing?
There's a bunch of great new job opportunities currently posted on Sheep Central's recruitment page, Jobs Central, as the meat and livestock industry prepares for the 2016 year ahead.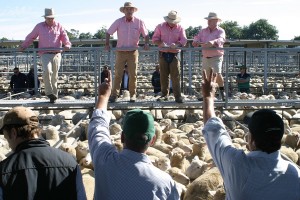 Recent postings include positions in extensive sheep and cattle production, lotfeeding, rangelands and environmental management, export and domestic red meat sales, agribusiness management and sales, meat processing and trading management, meatworks livestock buying, stock agency, livestock export operations, financial management and quality assurance.
The roles extend from entry-level trainee positions right through to senior management, and have been placed by family-scale enterprises right through to corporate giants.
The list shows the sheer diversity that now exists for exciting and rewarding employment across the Australian sheepmeat and wool supply chains.
Just some of the latest listings on Jobs Central include:
Station Positions Clonagh (Paraway Pastoral Co)
Backgrounding Livestock Manager – Wandoan area (Stanbroke)
Backgrounding Manager – western Darling Downs (Stanbroke)
Milling and Feed Hand  (Ladysmith Feedlot)
Livestock Hand (Ladysmith Feedlot)
Agribusiness / FMCG Finance Manager (Midfield Group)
Head Stockperson Brunette Downs (AA Co)
Station Cook Brunette Downs (AA Co)
Feedlot Manager (Rimfire Resources client)
Territory Sales Manager – North & Central Qld (Rimfire Resources client)
General Manager – Export Meat Processing (Shedseven client)
Overseer – Dunluce Station, Hughenden, North Qld
Manager – Warrie Station, Bathurst NSW
Northern Business Manager (Austrex)
Station hands – Mindroo, WA (Minderoo)
Operations Manager – Goonoo Station (AA Co)
Quality Assurance Officer (Hilltop Meats)
Click here to access these and other exciting meat and livestock supply chain jobs currently listed on Jobs Central.