WESTERN Australia's falling sheep flock has been drained by record meat exports in 2019 and more sales of ewes and lambs to eastern states restockers this year, including via increased online sales.
Only reduced live export shipments might have tempered the combined impact of increased processing and interstate transfers, leading to a forecast of an expected state flock of 12.9-13.4 million sheep in 2019/20.
More recently, global COVID-19 impacts have reduced WA sheep meat processing output, but the sector is now in an under-supply situation.
WA producers are now hoping for better seasonal conditions, especially improved stock water availability, to maximise reproduction in the ewe flock and boost lamb production.
Elders WA commercial sheep manager Dean Hubbard said sheep meat processing in the state reduced by about 35pc during the COVID-19 period from February this year.
"That's been demand-driven, not supply driven.
"We've gone from 85,000 sheep and lambs a week to 58,000 a week on average in round figures."
He said because the numbers of sheep processed, exported live and sold interstate, the state is in an "over-sold position", WA processors were in an under-supply situation and supplies would be tight until new season lambs arrive.
"I'm saying the state realistically is about 700-800,000 over-sold compared to the last two years for the same period."
Where have WA's sheep gone?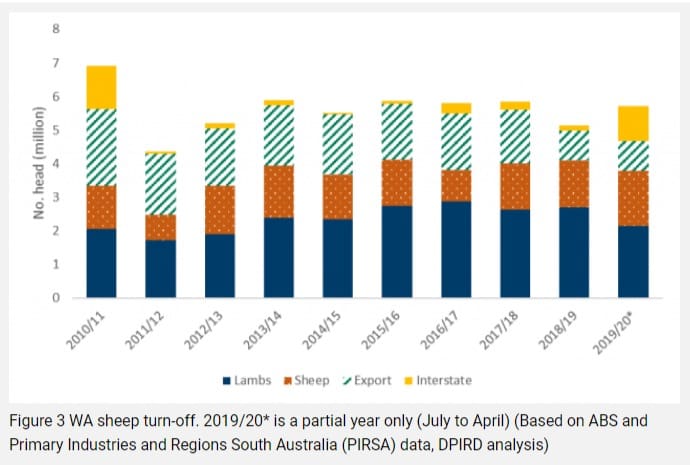 Lamb processing has increased in importance to the WA sheep industry in recent years, increasing as a proportion of turn-off from 30pc in 2010/11 to 52pc last year. Adult sheep processing accounted for 27pc of turn-off in 2018/19 at 1.4m head, but has already been eclipsed in 2019/20, 1.6m head processed in the 10 months to April.
Live sheep export declined from 27pc of turn-off in 2017/18 (1.6m sheep) to just 17pc in 2018/19 (895,000 sheep).
Interstate transfers accounted for just 3pc of turn-off in 2018/19 (146,000 sheep), but in 2019/20 more than 1m sheep have already been sent east this financial year (July 2019-April 2020), accounting for 18pc of the turn-off. If this rate continues, interstate transfers might surpass the record-breaking number of 1.3m set in 2010/11.
In May this year, 208,000 sheep and lambs were transferred east, comprising 122,000 adult sheep and 86,000 lambs. On a calendar year basis, interstate transfers have reached 904,000 between January and May, the highest on record for this time of year. Of that 52pc have been lambs and 48pc adult sheep.
Good growth in WA online sheep sales
AuctionsPlus marketing manager Lukas Postlethwaite said widespread rainfall in eastern states has been the catalyst for record breaking stock movements from Western Australia.
Mr Postlethwaite said demand for WA livestock has resulted in a spike in online listings as buyers look to take advantage of the availability of larger lines and freight efficiencies. Between January and April this year, the number of sheep offered online from WA totalled 119,347, more than double the online offering of the 2019 calendar year.
Mr Postlethwaite said the 80pc increase in WA's online sheep listings in 2016 can be attributed to an increase in demand from the eastern markets for WA sheep and a push from Mr Hubbard to encourage fellow agents to look beyond traditional selling methods.
Fast forward four years and the spike in numbers is significantly greater due to the drier start in WA and the contrast welcome rainfall in the east, seeing WA producers look online, many for the first time, to take advantage of the demand and strong prices.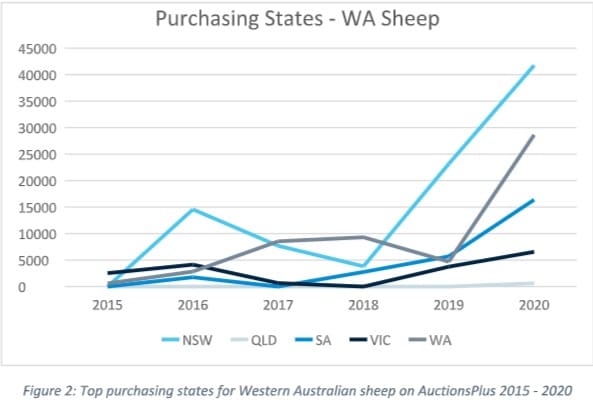 "Uptake for AuctionsPlus in WA is growing, whilst currently the system is being used to market stock to eastern buyers, local agents and producers have been purchasing in sales such as the annual Elders WA Forward Lamb Sale," Mr Hubbard said.
New South Wales has dominated the purchases of Western Australian sheep on AuctionsPlus since 2015. Nutrien Livestock at Nyngan Richard Thomas said most of WA sheep purchased have gone to local and Brewarrina restockers, attracted by WA's reasonably-sized quality lines that have been hard to come by locally.
A good season is critical
Mr Hubbard said a good season, including stock water availability, were critical to rebuilding the WA flock. He said there are still areas very short of stock water, but although some producers had been forced to sell sheep, they had done so at record prices.
Department senior development officer Mandy Curnow said with WA in the midst of lambing, good nutrition of ewes would be crucial to maintaining the sheep flock.
"Feed on offer available to ewes is still low in most paddocks so continuing supplementary feeding will be crucial to most producers.
"Green pick has high water content and offers only marginal energy so it is important to assess pastures carefully before ceasing supplementary feeding," Ms Curnow said.
WA sheep meat exports reach record level in 2019
The state's latest Sheep Notes figures show that sheep meat exports from WA reached 84.1 million kilograms in 2019, worth a record $596.6 million.
Department research officer Kate Pritchett said the export growth was led by mutton exports, which increased in value to $259.2 million, up 52 percent year-on-year.
"The largest sheep meat markets were China, Qatar and the USA."
Ms Pritchett said WA sheep numbers had been relatively stable in recent years but increased demand would put pressure on maintaining the size of the flock. As of July 2019, the flock consisted of 14.3 million sheep and lambs, including 7.8 million breeding ewes.
"The size of the flock is projected to decrease in 2019/20 to between 12.9 million and 13.4 million head, due to the high number of sheep processed, as well as high numbers of sheep moving interstate," she said.
"However, this may have been tempered to some degree by reduced numbers of sheep exported live."
The WA Sheep Notes said the total combined sheep turn-off from slaughter, live export and interstate transfers was 5.1 m head in 2018/19, a decline of 12pc YOY and the lowest since 2011/12.
This was largely due to the reduction in live sheep exports caused by regulatory changes, including the introduction of a mid-year trade pause for the Northern Hemisphere summer and reduced pen densities on board ships to reduce heat stress. Previously, turn-off had been around 5.8-5.9m annually.
Ms Curnow said the department would soon have available online information allowing producers and stakeholders access to interactive industry data and trends.
The latest Sheep Notes publication is available from the department website here.