AUSTRALIAN sheepmeat, beef and goatmeat producers will have their knowledge of on-farm food safety requirements assessed from January next year.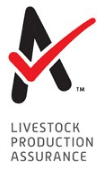 For the first time, producers will need to successfully complete a compulsory online assessment in order to renew their Livestock Production Assurance program accreditation.
Livestock Production Assurance Advisory Committee chair Kevin Roberts said the assessment was an important part of a nationwide push to ensure every red meat producer fully understood their food safety responsibilities, and the crucial role they play.
"The LPA program is an industry system that underpins the integrity of our product," Mr Roberts said.
"We know that the vast majority of livestock producers understand what is required on-farm in order to meet the requirements of LPA accreditation, and this assessment will simply validate that," he said.
"This is a significant strengthening of the commitment that reinforces our promise that Australian red meat is safe to eat, and helps secure vital access to more than 100 markets across the world."
From January, producers will be required to renew their LPA accreditation every three years, and will be notified by email or post when they are required to do so.
Those reminded first will be producers whose accreditation anniversary is in January 2017. Once notified, producers will have two months in which to renew.
They will be required to log on to the secure, password-protected LPA Service Centre, and correctly answer 10 multiple-choice questions relating to core elements of the LPA program, in order to renew their accreditation.
Renewing the accreditation of the 200,000 livestock producers currently involved in LPA will be a gradual process, with all producers expected to complete the assessment and renew their accreditation by 2019. Accreditation lasts for three years.
"The important point is that failure to renew an accreditation within the specified timeframe will mean a producer's LPA accreditation will lapse," Mr Roberts said.
"If this happens, producers will no longer have access to LPA National Vendor Declarations and the access to markets for their livestock will be significantly impacted."
Producers will be supported in preparing for the assessment by an online learning tool, called "LPA Learning", developed by Meat & Livestock Australia. This can be accessed via smartphones and tablets as well as desktop computers.
"Working through LPA Learning improves your knowledge around on-farm food safety practices, and the five elements of the LPA program: assessing risks, treating animals safely and responsibly, managing pasture and fodder treatments, preparing animals for dispatch, and documenting livestock transactions and movements," Mr Roberts said.
"I'd strongly recommend completion of the LPA Learning tool to refresh understanding in preparation for the assessment. It is 30 minutes well spent," he said.
The online assessment (and supporting learning resource) was launched at the end of August, with producers joining LPA for the first time required to complete the assessment from 1 September 2016.
"With the national trend towards reducing public extension services, and the remote locations of many producers, online learning is a cost-effective way to deliver training," Mr Roberts said.
Producers can access background information on all aspects of Australia's red meat integrity system at the Integrity Hub. This includes information on the National Livestock Identification System, the LPA program, producer resources and LPA Learning.
Livestock Production Assurance & LPA Learning background:
The LPA program covers five on-farm food safety elements:
property risk assessment
safe and responsible animal treatments
stock foods, fodder crops and grain pasture treatments
preparation for dispatch of livestock
livestock transactions and movements.
Through the new LPA Learning tool, learners are introduced to five characters representing producers of beef, sheepmeat and goatmeat.
Within the course, they follow the journey of each individual through the process of making sure they comply with the five core requirements of the LPA program.
This allows learners to make decisions and complete activities that closely simulate the things they do in their daily on-farm work. The process reinforces and clarifies the LPA message.
LPA Learning can be accessed via smartphones and tables, as well as desktop computers.
LPA Learning is accessible to both producers signing up to LPA for the first time and to existing participants who would like to refresh their understanding of the program before sitting the compulsory accreditation renewal assessment.
It takes about 30 minutes for the average producer to work through the course material.
To ensure that the small number of producers who do not access the internet are not excluded, a printed learning pack is available on a user-pays cost-recovered basis. The accreditation and accreditation renewal process can be finalised by these individuals via telephone.
Source: LPA