Fine Merino wool was the most popular on Wooltrade last week, market operations manager Tony Benson said.
Some exporters are taking a position in the superfine areas in the expectation of superfine wool increasing in value this year, he said.
The sale of 1267 bales on Wooltrade was a good sign that demand would flow on into this week.
Mr Benson said the 17.2-19.4 micron wools were the most popular followed by another run at about 21 microns.
"Superfine wools down to 15 microns were as popular as crossbreds this week," he joked.
Mr Benson said WoolTrade sold 93 bales (29 lots) under 16.5 microns with the top price being 1540c/kg for a 15.1 micron line – MWF4S.F1 71/48.
Mr Benson said Wooltrade listed 14,424 bales for sale in July last year.
"Numbers peaked in September at 16,095 and have settled in January 2015 to 12,959 — that is up 3687 bales compared to this time last year but there are lower quantities of wool nationally.
"We have seen January/February market rallies after the three-week Christmas recess in previous years."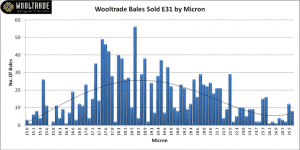 Source: Wooltrade