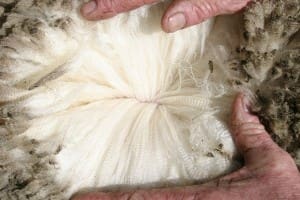 Fine wool's future will be the focus of a NSW Farmers dinner event in Rylstone next week.
The dinner on November 3 will feature district woolgrower Steve Evans, Australian Wool Innovation director Dr Meredith Sheil and Elders wool technical manager Craig Brennan as guest speakers on the current and future state of the market.
The NSW Farmers' Mudgee District Council event is being held at the Rylstone Club.
Mudgee District Council chair Mitchell Clapham said Steve Evans will provide an insight into the high end of the fine wool market following a recent visit to mills and fashion shows in Italy.
"It will be really interesting to hear from Steve about where the consumer market is heading and what one of the key fine wool buyers is looking for," Mr Clapham said.
"There is some disillusionment from local growers about the future of the super fine wool market, which is mainly being driven by low market prices and an incremental decrease in the size of our local fine wool industry."
"That's why we have also invited Dr Meredith Sheil who will speak on future strategies for marketing fine wool and Craig Brennan from Elders who can talk about the current market and factors affecting it."
The dinner event starts at 6.30pm and will cost $15 for NSW Farmers' members and $20 for non-members. For further information please contact Mitchell Clapham on 02 6358 8451 or David Clarke on 0427 791 384.