In February, Western Australian saleyard lamb indicators continued to trend dearer compared to the same time last year – with all major lighter weight categories more than 100¢/kg cwt higher year-on-year.
So far this year, due to tighter availability and keen buyer demand in the physical market, both the restocker and light lamb indicators averaged 145¢ and 101¢ higher year-on-year, at 542¢ and 563¢/kg cwt, respectively.
Although to a lesser extent, trade and heavy lamb indicators have also trended above year-ago levels so far in 2017, averaging 547¢ and 535¢, up 69¢ and 52¢/kg cwt, respectively.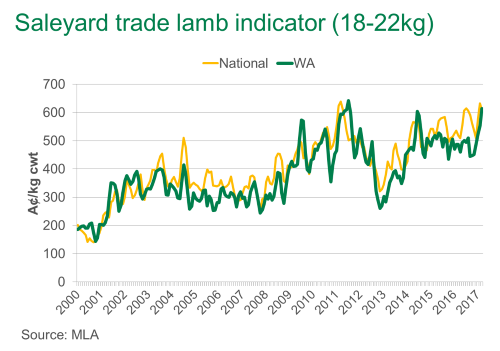 Last week, the WA over-the-hook lamb indicators also averaged dearer year-on-year – with some categories trending 30¢/kg cwt higher.
The medium and heavy trade lamb indicators settled 28¢ dearer, averaging 535¢, while heavy lambs delivered direct-to-works averaged 550¢, up 30¢/kg cwt from year-ago levels.
The latest three-month rainfall outlook from the Bureau of Meteorology suggests a drier than average autumn for most parts of Western Australia.
Some north western regions of the state were the exception, however, with an equal chance of above or below average rainfall for the March to May period.
The short-term outlook for the market will largely depend on whether the rainfall forecast comes to fruition and feed availability in the lead up to winter, which will in turn impact restocker buyer activity in the physical market.
Source: MLA