Not all of these scams relate to machinery, with some involving the purchase of cattle, sheep and fodder.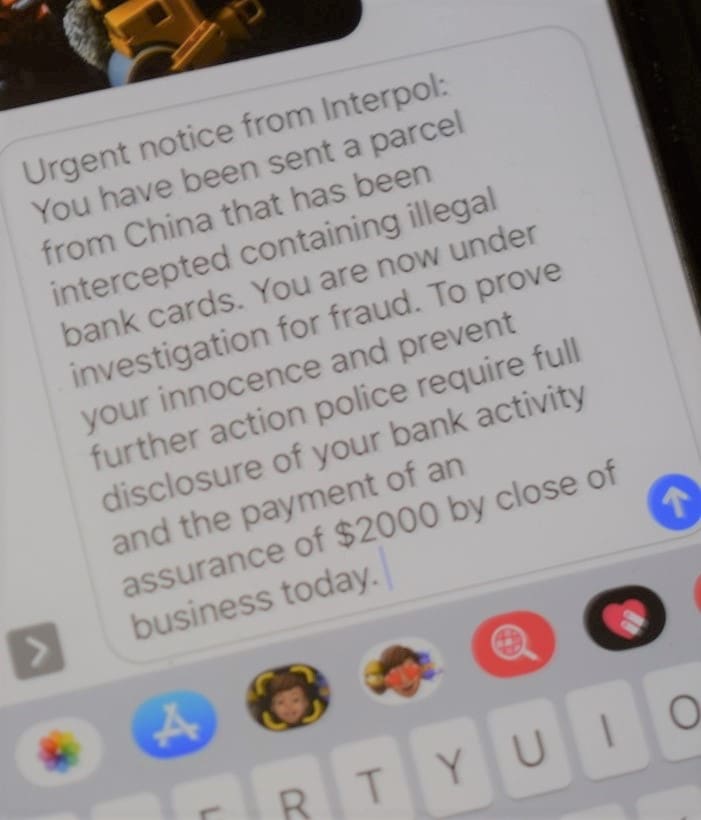 The statistics show that people in the rural sector are not immune to being caught out by fraudsters who cost Australian consumers, businesses, and the economy hundreds of millions of dollars each year and cause serious emotional harm to victims and their families.
Up until the end of September this year, Scamwatch had received more than 226,000 reports of scams that have fleeced Australians of more than $222 million. And that's only the ones that have been reported.
It is thought that around one-third of people who are scammed never tell anyone because they feel shame or embarrassment about what has happened, so the true number is probably much higher.
In this Scams Awareness Week (November 8-12) the Australian Competition and Consumer Commission (ACCC) is calling on everyone to be alert to scam activity, report any scams and share their scam stories to raise awareness, reduce stigma and help people recognise a scam sooner, or prevent scams from happening in the first place.
Case study examples of farm-related scams
Tractor advertisement on classifieds website – reported losses of $7900:
"On 28th November 2020 I was on Facebook Marketplace. I came across an advertisement for a 2014 John Deere tractor. I was interested and asked if it was available. I received a prompt reply that same day. They gave me an email address. The contact person was Anna from Queensland. I sent her an email that same evening and received a reply stating she was selling on behalf of her late father as she said she was wanting to sell it quickly because she was from the military and was to be deployed in 10 days. She instructed me to pay through what I believed was eBay motors. She asked for the payment through bank transfer and stated that she would ship the tractor upon payment which would take about three days. She convincingly said shipping would be easy as she would get the military to ship it from Queensland to our home address.
We transferred $7900 via bank transfer as directed. We emailed her to let her know we transferred the money to receive our tractor. We emailed her after five days for an ETA for the tractor and have had no reply.  We became suspicious and googled market place scams and to our horror we came across similar stories of other unsuspecting online shoppers who have had the same thing happen to them. We checked our legitimate eBay account and noticed there was no activity on the day we purchased the tractor. We immediately rang our bank and lodged a transaction dispute to see if we could recover our money with no success."
Tractor sale on a website – reported losses of $28,500:
"I was looking to buy a second hand tractor for my farm. I emailed a website to ask for a certain budget and type of tractor and when I searched the website I found it, so was very excited and was told to pay to secure the purchase. Everything came with a warranty and guaranteed by the Escrow agent who will refund if not satisfactory. It made me think it was a guaranteed transaction so I have nothing to worry about.
There was even a 12 months warranty on service. I received a call on my mobile from the Escrow agent Deepak Sharma to say that I will receive an email shortly and to follow the instructions to pay via internet banking. I paid and the agent mentioned a delivery date and after it did not turn up I emailed and received a reply that the driver had COVID 19 and that delivery will be delayed due to contamination and cleaning procedure. The following date of delivery was 25th Jan which is a holiday so I emailed to ask for it to be delivered on 27th Jan. On 27th Jan I realised that it was a scam when I called to check the time of delivery. Every number I called went to the same voicemail. I suddenly realised I did not do a check before I paid and googled the website under scam and saw that it was reported as scam. I quickly called the bank to dispute the transaction and have not heard from the bank since."
Grain case study from 2019 – reported losses of $2000:
"This company is in liquidation and has debt of over $5 million and has phoenixes by many other names. They are getting farmers to pre-pay for hay and feed in drought and doubling the price and taking their money and not delivering the hay and feed they have paid for. It's disgusting behaviour."
Sheep purchase on classifieds website
"I posted an ad on Gumtree looking for a particular type of sheep for my farm. I was contacted by text on my phone by a man claiming to be from Sydney and that he had what I was after and was willing to deliver anywhere in Australia. I told the man that I had already planned to go inspect some other sheep closer to home and if it turned out to be no good I'd get back to him.
He then sent a text asking if I would like to pay a holding deposit in case the ones I was looking out turned out no good  which was followed by picture messages of various breeds of cows ( when I was looking for sheep ). I told him I had already found what I am looking for but again he stated he takes holding deposits. This sounds very dodgy because if you read his first two messages he sent he knows exactly what he is talking about but then sends me pictures of cows.
This leads me to believe he has copied his text from something else and sent me pictures of cows because he really has no idea and I wouldn't hear from him again if I had paid a 'holding deposit'."
Cattle sale ruse
"He tried to sell me 15 cows for $700 each. He was trying to get me to put money into his account. I said no way; I told him I will pay on pick-up. He said well just put $1000 in there because he needs to buy feed for them. I asked for a phone number; "no phone" he said, so I called on Messenger. He was really sheepish, I also looked at his Facebook and there was no info. It looked fake to me. I then had other people contact me telling me he was trying to do the same with them."
Sheep sale on classified website
"Scammer selling babydoll sheep on Facebook Marketplace. Realised it was a scam when delivery date was changed and no invoice could be provided. This was followed up with an email requesting further payment of insurance to haulage company which would be refunded on delivery."
What to look out for when purchasing machinery online
The website or seller is advertising at very low prices, often lower than comparable or identical items on other websites.
The website or seller requests, or offers a discount, if you pay through international/wire transfer, direct bank transfer or cryptocurrency.
An online retailer does not provide adequate information about privacy, terms and conditions of use, dispute resolution or contact details. The seller may be based overseas, or the seller may not allow payment through a secure payment service such as PayPal or a credit card transaction.
The website or seller is very new. If possible, try and ascertain how many sales the seller has, and the period of time they've been selling. If the store is on social media, read the comments and search for reviews on the internet – noting there may be fake positive reviews.
The website or seller claims to be unavailable (e.g. they are travelling or have moved overseas) and insists on payment prior to arranging for delivery of the goods.
How to protect yourself
Know who you are buying from. Research the seller by checking online reviews about the online shop. If you are buying from a social networking site check the seller's history and read reviews from other people who have dealt with them.
Try to check the stated address/physical location. Often, scammers either don't state a physical address, but if you do a quick check on Google earth, you can see whether there is actually such a business at that location.
Don't be pressured by special offers or sales. Take your time and consider who you are dealing with.
Don't trust the legitimacy of an ad just because it appears in a reputable newspaper or classifieds website – scammers post fake ads in these too.
Do an internet search using the exact wording in the ad, many well-known scams can be found this way.
When making online payments, only pay for items using a secure payment service—look for a URL starting with 'https' and a closed padlock symbol, or a payment provider such as PayPal.
What to do if you have been scammed:
Contact your bank or financial institution as soon as possible.
Contact the platform on which you were scammed, and inform them of the circumstances surrounding the scam.
The ACCC encourages you to make a report on the Scamwatch website: www.scamwatch.gov.au/report-a-scam. You can also follow @scamwatch_gov on Twitter and subscribe to Scamwatch radar alerts.
If you have experienced a loss online and believe the perpetrator is located within Australia you can report the scam to ReportCyber. ReportCyber triages all reports and allocates to the relevant law enforcement authorities for further action.
If you suspect you are a victim of identity theft, it is important that you act quickly to reduce your risk of financial loss or other damages. IDCARE is a free government-funded service which will work with you to develop a specific response plan to your situation and support you throughout the process. You can phone them on 1300 IDCARE (432273) or visit their website www.idcare.org.
If you have experienced fraud or theft contact your local police.
Warn others about the scam so they aren't victims.
 Scamwatch tools and resources
The Scamwatch and ACCC websites contain a range of tools and resources about scams.
Scamwatch Report Form: If you've come across a scam you can report it here.
Scamwatch reporting statistics: Provides up-to-date statistics on scams reported by Australians.
Targeting Scams Reports: Yearly report on scam trends and statistics.
Helping a friend or family member who is a victim to a scam: Useful information if someone close to you has been scammed.
Be Safe, Be Alert Online: Information on organisations who may be able to help when someone has been scammed.
Where else to get help: Other organisations who might be able to help when someone has fallen victim to a scam.
Little Black Book of Scams: Information on identifying a scam (available digitally in a range of languages).