SOME ewe category prices improved in a bigger online commercial sheep and lamb offering of 33,822 head — up 21 percent — on AuctionsPlus last week.
Offerings were driven higher by new season lambs, as the persistent tougher market conditions has pushed more farmers to sell when they may have been previously holding, AuctionsPlus said.
It was a stronger market for the weekly indicators with clearance and value over reserve both lifting, breathing a bit of a life into an otherwise tough market. Clearance ended the week at 45pvc, a 13-percentage point rise and the value paid over reserve averaged $11.
New season lambs are beginning to make their dash online, with the 14,992 head representing 44pc of the weekly offering. Most of the listings came from New South Wales, while a smaller portion were listed out of Queensland and South Australia. Clearance for this week's new season offering hit 63pc and value over reserve averaged $11.
Crossbred lamb listings increased to 9791 head, with the average price falling $1 to $62 – for a healthy 83pc clearance. A single vendor at Mendooran in NSW had 3708 White Suffolk cross new season mixed sex lambs in 16 lots ranging in weight from 25-42kg lwt. The vendor achieved an 83pc clearance rate at prices of $44-$92 and averaged $64, with successful buyers in NSW and Victoria.
Merino wether lambs doubled in supply last week to 5698 head, with the average price decreasing by $4 on the previous week to $39 for the 29pc sold. At Grenfell in NSW, 385 Merino Jul/Aug '22 drop and weighing 47kg lwt sold for $46 to a buyer in Bendigo, Victoria.
First cross ewes saw a larger offering of 2,304 head, with prices averaging $108/head – up $18 from last week for a 22% clearance. At Forbes in NSW a line of 350 Border Leicester/Merino ewes aged 3 years old and weighing 70kg returned $111/head.
Note: Prices as at 5pm Thursday, 24th August 2023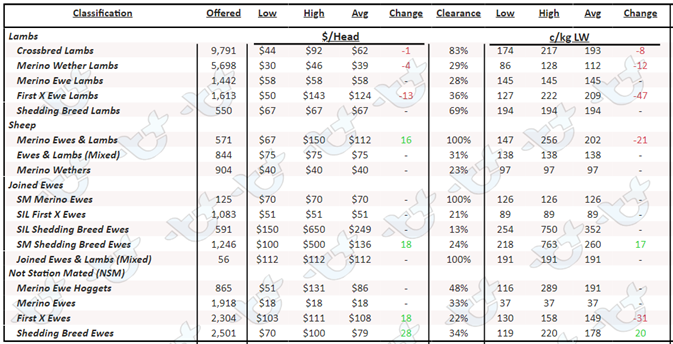 Source – AuctionsPlus.