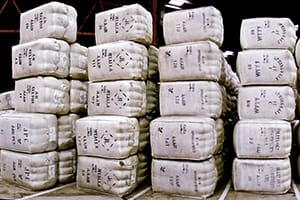 Renewed European interest for finer Merino wool, a resurgence in crossbred demand and a lower Australian-US dollar exchange rate combined to lift overall Australian wool prices this week.
Buyers are now paying premiums of more than 200-400c/kg for specific best spinners and style Merino types with high tensile strength over 40 Newtons/kilotex.
AWEX senior market analyst Lionel Plunkett said a small national total of 37,415 bales – the second smallest for the season — and a falling Australian dollar assisted the AWEX-EMI to a 19-cent rise to 1070 cents this week. The AWEX-EMI has not been at this level since February last year.
"The dollar fell 1.74 US cents when compared to the previous week, closing below 79 cents for the first time since 2009 and continuing its recent downward trend."
The EMI in US dollars fell three cents to US844 cents, with the Australian dollar at US78.9 cents. Only 6.7 percent of the national offering was passed in.
Finer microns were the focus
Mr Plunkett although the market made healthy gains across most categories, the finer microns continued to dominate attention.
"In particular buyers are competing strongly for well specified lots in the 17-18.5 micron range.
"Sale lots which test above 45 Newtons/kilotex are bringing substantial premiums – as much as 200 cents over 35nkt types," he said.
"The margins stretched out further this week and are becoming more commonplace after only isolated examples were noted in previous weeks.
"Initially targeting spinners' style, the higher prices are now extending down to best style types."
The difference in price based on tensile strength for 40 N/kt-plus types widens out to more than 400c/kg when compared to similar micron wools of less than 30 N/kt.
Mr Plunkett said other microns and quality grades also closed ahead this week, although the increases were generally a more modest 5-15 cents depending on selling centre and micron.
"Fremantle had the smallest increases due to a one-day sale held on Wednesday, missing out on additional rises made in the east coast on Thursday.
"Merino skirtings had a comparatively steady week, firming by 10 cents," he said.
Crossbred wools return to winner's circle
Mr Plunkett said crossbreds returned to the winner's circle with strong increases after a fortnight of negative returns.
"Consecutive rises has the 28 Micron Price Guide 100 cents higher in less than three months.
"Merino carding types also had a positive week, lifting 10 to 20 cents."
Superfine wools under intense pressure
Australian Wool Innovation consultant Scott Carmody said superfine (18.5 micron and finer) Merino fleece came under intense pressure throughout the week.
"Of most interest was the typical European types of the better strength and style lots.
"A further 60-80c/kg clean was added to the value of these wools, making them 140c/kg clean dearer over the past fortnight," he said.
"The lesser types were not as affected, but still managed to progress to be 15-20c/kg clean dearer. "The price premium for the best wools stretched to 250c/kg clean and in some cases for the best specified lots even further."
In AWI's Weekly Wool Market Review, Mr Carmody said in a very notable change in fortune for Australian wool markets this week, as every wool type and description on offer recorded good to extraordinary gains.
"A combination of positive factors led to the renewed confidence, that brought strong competition into the auction rooms from numerous buyers.
"Pre-sale expectations of an impending dearer wool market by exporters quickly eventuated as prices tracked upwards from the outset of selling.
"A sharply lower USD exchange rate against the AUD, shipment deadlines to execute January deliveries, lower volumes on offer and buying interest from Europe and India all combined to see our local markets dearer," he said.
"In a surprising circumstance though, the pressure placed upon the market came mainly from the local forward selling exporters and strong European buying indents, particularly at the finer end of the Merino sectors.
"Currency issues continue to place an interesting perspective to the market place, but the overall supply and demand factor remains premier,' he said.
"Contrary to what can be considered as "normal" economic thinking, many participants reported the stronger AUD against the Euro put the European interest into the market, whilst the weaker AUD:USD caused initial apprehension by those buying wool in USD., mainly the Chinese.
"A general theory being that European and other users recognize the potential buying power when the Chinese decide to buy heavier volumes as the US currency goes more in their favour each passing week," he said.
Sydney sales bring excellent premiums
Landmark wool risk manager Anthony Boatman said fine wools continued to find good support in opening sales in Sydney.
The 18 micron and finer categories pushed up 30 cents and some excellent premiums were paid for the better style and strength lots, he said.
"The same support was not evident for the 18.5 through to 23 micron categories although they still held their ground, quoted firm to unchanged.
"Crossbreds followed the lead of the fine wools with strong support pushing the majority of the catalogue up 5-15 cents," he said.
"Oddments were also well sought-after with locks and crutchings 5-10 cents higher.
"The finer end continued to push higher again on Thursday closing the week out with gains of 15-20 cents for the 16.5-18.5 microns ahead of next week's designated superfine sale," Mr Boatman said.
"The 19 through to 23 micron categories picked up in the wake of the fine wools, edging around 5 cents higher.
"Crossbreds also made steady increases of up to 15c, while oddments lifted another 5-10 cents."
Melbourne fine wool led the way
Mr Boatman said the Melbourne sales opened with a similar trend to last week, with the fine wools leading the way higher.
"The 18.5 and finer lots generally posted gains of 25 cents, while the spinners' types on offer were up to 50 cents higher.
"The medium micron categories lifted 5-10 cents."
Mr Boatman said the crossbreds and oddments had good support, with most categories lifting 10-15 cents higher. On Thursday, there were also good results across the board.
"Fine wools were again the focus of buyer support, with prices continuing another 10-20 cents higher.
"Medium to broad merino fleece wools added another 10 cents to their previous levels, while crossbreds managed another 10-20 cents."
Fremantle not as strong as the east
Mr Boatman said Fremantle hosted a single day of sales on Wednesday and while the market was generally positive, results were not as strong as in the eastern states.
"Medium micron wools were soft to unchanged, however levels remained in line with east coast prices.
"Fine wool prices however fell farther behind their east coast counterparts, despite lifting 10-15 cents."
Oddments had strong support with locks up 15 cents and crutchings closing 10 cents dearer, he said.
Sources: AWEX, Landmark, AWI