ENGLISH shearer Stu Connor has set a new British nine-hour record for shearing strong wool lambs, but failed in his attempt for a new world mark.
Shearing to honour his late daughter Grace and to beat the world nine-hour strong wool lamb shearing record of 867 lambs, the 36 year-old managed 785 lambs at Fern Hill Farm, Compton Martin, Somerset on Saturday.
Although he has a work day personal best achievement of 909 lambs in nine hours shearing in New Zealand, the shearer managed 171 on his first run, followed by four runs of 150, 155, 156 and 153, to beat the previous British record of 781, set by Welsh shearer Gareth Daniel in 2016.
Stu told the United Kingdom's Farmers Weekly he felt sore after his ordeal.
"It was touch and go for a while, obviously the world record just didn't happen.
"The sheep weren't hot enough, we just couldn't get the numbers … we just kept plugging away at it, I wasn't giving up."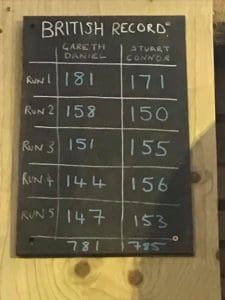 A big driver to keep going, despite conditions being against a world record tally, was Stu's intention to raise funds in honour of his daughter Grace, who died at three years of age last year from Mitochondrial Disease.
Before Saturday's attempt Team Grace fundraisers had had raised more than £55,000 (about $A101,000) for the Lily Foundation's fight against the disease, via the JustGiving page https://www.justgiving.com/campaigns/charity/lilyfoundation/teamgrace
He estimated sponsorship leading up to the day might have raised more than £4000 and he was hopeful the total of funds raised by Team Grace was about £60,000.