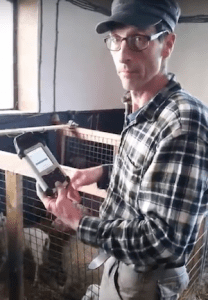 Dutch sheep farmer Diederik Sleurink gave Victorian saleyard managers a first-hand demonstration of how he tags and registers his sheep electronically on a Litams hand-held connected reader.
He also downloads the data to help select sheep or to identify a sheep in the field, and find out its age and lambing history.
He records the lamb's birth date, sex, estimated birth weight, its dam's identification and lambing history on the hand-held connected reader.
He must register a newborn lamb's date of birth and identification number the central Dutch identification and registration (I&R) database within six months.
Good phone or wireless reception is sometimes a problem, but the hand-held connected reader saves data until this improves to enable downloading to the database.
Click on the video below to see Mr Sleurink explain to Sheep Central's Terry Sim how he tags lambs and logs them into a national database:
Electronic tagging in EU since 2010
From 2010, all newborn animals in the EU have had to be identified electronically, although member states with populations of less than 600,000 sheep and goats or less than 160,000 goats can make electronic tagging voluntary for animals not entering intra-community trade.
The individual identity of each animal needs to be recorded in an on-farm holding register and when animals are moved, it should be recorded on a movement document accompanying the animal.
From 2012, individual recording has been mandatory for all sheep and goat movements, although animals born before 2010 can be sent to slaughter without individual recording.