DROUGHT conditions across large parts of eastern Australia have impacted Elders' half-year results announced today, with statutory net profit down $14 million from the same period last year to $27.4 million.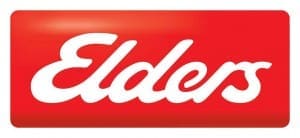 The net profit after tax for the first half to the end of March of $27.4m compares with a $41.4m last year. Underlying pre-tax earnings were $33.5m, down 27pc or $12.2m in comparisons with H1 last year.
The decline in earnings reflected lower wool volumes, increases in costs associated with footprint growth, and continued investment in digital and technology areas, the company told shareholders.
Operating cash outflow of $13.1m included investment in increased Titan chemical inventory levels which will support backward integration initiatives and earnings in the second half. Variability of livestock activity around balance date also impacted the half-year cash flow, it said.
Elders said it was continuing to deliver on its Eight Point Plan initiatives, despite the reduced activity in agriculture due to the hot and dry conditions across Australia.
Chief executive and managing director Mark Allison said the company had continued its commitment to achieve continuous high quality growth, despite the difficult conditions being experienced by the Australian agriculture sector in the first half.
Wool performance impacts gross margin
Despite reduced summer crop plantings and production, Elders' retail business showed resilience through geographical diversification and other growth initiatives including backward integration through the purchase of Titan chemicals, Mr Allison said.
While overall agency gross margin was down $3.1, he said this was largely due to wool performance which followed the market as a whole with lower volumes due to dry conditions and lower sheep levels.
Livestock earnings were impacted by lower cattle prices; however, higher cattle volumes from dry conditions and lack of feed offset this.
"Additionally, our sheep business improved in both volumes, due to our bolt on acquisition strategy, and prices," Mr Allison said.
In the financial services division, the start of the new Rural Bank arrangement during March would provide a secure revenue stream for the life of the contract (with lower margin offset by lower costs), he said.
"Costs increased by $7.5m to drive Eight Point Plan initiatives, including acquisition and organic footprint growth, and investment in our digital and technology areas," Mr Allison said.
Outlook for the balance of the year
Elders expects to deliver underlying pre-tax earnings for the 12 months to 30 September in the range of $72-75m, compared with last financial year's $74.6m.
Net profit is expected to be in the range of $61-65m, compared with $63.7m last year.
Mr Allison said both cattle and sheep volumes were expected to be lower for the remainder of the year due to limited supply, with sheep prices expected to remain high.
There had been increased turn off of cattle and halted herd rebuilding due to drought conditions in Queensland and New South Wales, with a 1pc decline in the cattle herd forecast for 2018-19.
Assuming seasonal conditions improve, over the medium term herd rebuilding was expected to resume. However, this will be restricted by a relatively low breeding cow inventory.
Cattle losses were expected as a result of the severe floods in Northern Queensland. These losses were expected to adversely affect live export cattle and slaughter cattle numbers.
The national flock was expected to decrease by 4pc in 2018-19 to 66m head, due to dry conditions, particularly in NSW, resulting in higher rates of lamb and sheep turn off, as producers look to avoid high feed costs.
In the medium-term, the sheep flock would begin to recover with lambs becoming breeding stock rather than getting turned off. Export demand for sheep meat is expected to remain strong and continue to grow over the medium term, particularly in China. Live sheep exports are expected to remain stable, with the assumption shipments will be limited to the cooler months in the Northern Hemisphere.
A return to average winter cropping conditions was expected, and increased retail earnings would flow from the Titan acquisition as inventory held over the half year balance date is sold to producers for use with their winter crop.
Financial Services earnings were expected to increase due to the new Rural Bank arrangement and returns from increased shareholder loans to livestock finance business, StockCo.
"Earnings will be generated from new Livestock and Wool in transit delivery guarantees associated with Elders' agency services, which will be launched in the second half, replacing the QBE underwritten insurance products Elders currently distributes," Mr Allison said.
The company forecast a fully-franked interim dividend of 9c per share. Elders shares closed today at $6.58, close to their high-point since January.