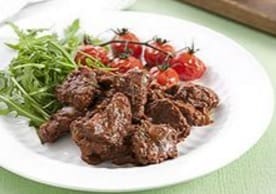 CONTINUING competition between domestic and international goat meat markets has helped move product prices into record territory.
Meat & Livestock Australia said since 2013, over-the-hook goat indicators have been on a steady upward trajectory.
In the last 12 months alone, the 12.1-16kg cwt over-the-hook goat indicator has jumped 101 cents – from an average of 511 cents in January 2016, to 612c/kg cwt for January 2017-to-date – with top quotes of 700c/kg cwt.
Australian goat exports for 2016 were down 11 percent year-on-year, largely underpinned by tighter supplies, despite growing domestic and global demand. The latest global goat exports summary for December reports 2997 tonnes during this period, bringing the 2016 total to 26,794 tonnes.
MLA said Australia's largest goat export market remained the United States, accounting for 17,807 tonnes, equivalent to 66pc of total goat exports and a 1pc increase year-on-year. Taiwan, the second largest export destination, increased imports 35pc year-on-year to 3140 tonnes.
Australia is a relatively small producer of goat meat compared to the rest of the world, but is the largest goat meat exporter, MLA said. This is primarily due to relatively low domestic consumption and increasing international demand.
National goat slaughter was back 23pc year-on-year for the year-to-November 2016, totalling to 1.7 million head. MLA said above-average rainfall across most of the country in June and July contributed extensively to lower slaughter levels, as it presented logistical difficulties harvesting goats. June slaughter numbers totalled 58,370 head, the lowest monthly slaughter figure since April 2008, and the short supplies were reflected in the export figures for June and July – 938 tonnes and 918 tonnes respectively. Before then, the last time monthly goat meat export volumes dipped below 1000 tonnes was in April 2007, MLA said.
MLA said the increase in the Australia dollar's value over the course of 2016 has provided further support for Australian goat meat exports.
"The $A, for the most part of 2016, hovered around US75 cents, having started the year around US70 cents.
"Even with a year-on-year decline for goat exports, strong demand and growing investment in the industry is likely to continue providing support for the Australian goat market in 2017," MLA said.
Source: MLA.