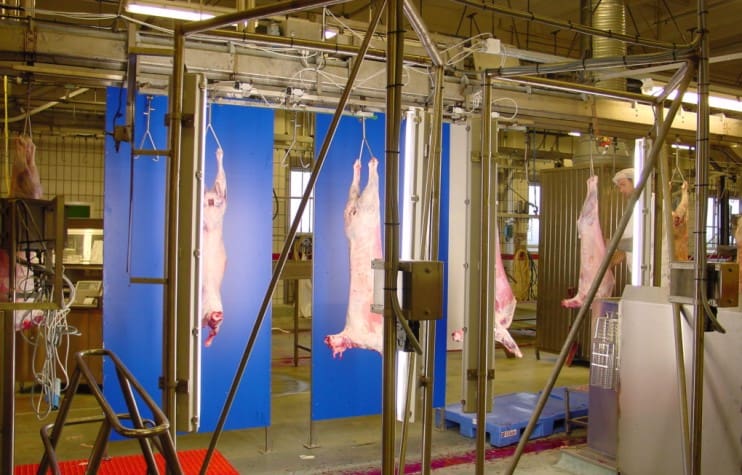 ONE of the major lamb processors in the US has announced that the USDA has approved the use of the VSS2000 System digital camera (pictured above), the first digital camera of its kind used in the US lamb industry as part of an electronic grading system.
Superior Farms has been working since 2015 to secure USDA approval for the camera's use, validating the camera's algorithms to assure accurate full carcase measurements of both yield and quality grades as well as an Ovine Cutability Calculation (OCC). The company said it had worked 'hand-in hand' with USDA over the past two years to secure approval.
The hope is that electronic grading will allow greater access to carcase information for US lamb lamb producers, and when paired with Electronic Identification (EID) tags, will allow producers to see the data on an individual lamb carcase basis.
German manufacturer E+V's VSS2000 whole carcase camera system is said to be similar to Australia's old VIAScan system trialled in Australia many years ago.
E+V is also the manufacturer of the MSA quality grading camera which beef processor Teys Australia aims to install in its Wagga, NSW plant by mid-year, allowing objective quality grading for a range of MSA and AusMeat parameters on beef carcases. Qualified MSA graders will be used to operate the camera equipment.
"Combining Electronic Grading with our Producer Portal will allow unprecedented access to carcase information by our producer partners that will allow every segment of our industry to continue to produce a better product," Superior Farms chief executive Rick Stott said.
The Electronic Grading system would provide Superior Farms producers with detailed meat information about their lambs. "We will now be able to share this information through our Producer Portal.  This information includes the USDA Yield Grade and Quality Grade, as well as the Ovine Cutability Calculation, the primal weights (leg, loin, shoulder, rack, breast, trotters, and neck) and two digital images of each lamb carcass processed," Mr Stott said in a statement.
Superior Farms has a longstanding relationship with Australian lamb, working with Meat & Livestock Australia in a major lamb burger promotion some years ago.
While imported lamb continues to take market share in the US, the US domestic lamb industry still processes between 2.2 to 2.5 million sheep and lambs each year, representing about half of total US lamb consumption.