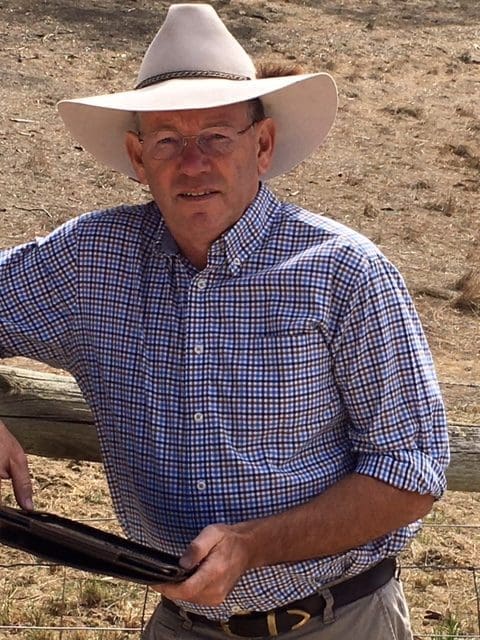 Chris Howie offers his perspective on market trends and opportunities in coming weeks and months, drawing from his own observations and from a wide contact network of producers, agents, processors, industry associates and leaders developed during his extensive career as a livestock agent. Chris is Stockco's Business Development Manager.
What's the season doing
I was in Western Australia two weeks ago and the feed situation is very good. A bit of frost has caused some concern and reduced tonnages, but overall there is plenty of feed for sheep and cattle. South Australia, Victoria and New South Wales are a bit of a mixed bag. The Mallee cropping areas flowing into the Riverina are desperate for rain with some past saving crops. Pasture is only fair at best in these areas and getting some hay in is important. Bit of frost last week through some areas of SA seeing crop being cut for hay. The south of SA and Victoria following the Great Divide all the way to Glen Innes in NSW are very good with rain this week adding to already full catchments. These areas are all large livestock trading destinations so demand will continue well into summer. Speaking to Michael Spencer from Adcock Partners in Inverell, he said the west of NSW and Qld had remained dry with the bulk of dry feed holding off new herbage growth. In the past days there has been significant rain of 40 – 60mm in Western NSW with nearly all of it soaking in. The rain continues around Albury and it will be interesting to see how much water is destined for the Lower lakes this year with many catchments near full.
Seasonal trends
Irrespective of price the seasonal trends are relatively normal – although probably 2 – 3 weeks later. The mutton price eased early September on the back of numbers and the lamb price has started to soften this week. I would expect to see the run of grazing crop cattle starting to appear from NSW and Southern QLD in the near future. David Simpson, Elders Bathurst said "Indications are this may momentarily lift numbers but will not flood the supply chain, especially if rain continues." The SE of SA and Victorian cattle are still 4 – 6 weeks away and will be in good order.
Averages vs top price
I have noted some sheep and cattle reports are continually jumping to the top prices as a reference. This in turn has created discussions around affordability of livestock to utilise available feed or buying breeders. I remember in the early days Adrian Spencer from Ironbark Herefords telling me "the average price is the sales point, not the top prices, as it provides a true reflection of value."
Whether you are buying cattle or sheep do not be disheartened by the headlines as there are still plenty of quality stock available at affordable rates. Using the Hay sheep sale as an example and speaking to Jason Andrew, Elders Deniliquin, who said the record $512 ewes were bought by repeat buyers who have a quality first cross ewe breeding operation aligned to the known performance of these ewes year-on-year. However, the majority of young ewes at Hay ranged from $220-$320, making them very affordable considering your old ewe trade-in, lamb and wool pricing. See Murray Arnel's report on the sale. The same goes for cows and heifers, with plenty available well under the $4000 headline prices.
Average price comparisons – I grabbed some simple data out of the StockCo finance system to look at average invoice prices per head for steers, heifers, ewes and lambs since December 2020. These are from all over Australia and I have not sorted for weight or breed. What it does show is buying to a price for steers and heifers seems to be the main trend until the last month. Ewes and lambs show the price decline in June because it was dry.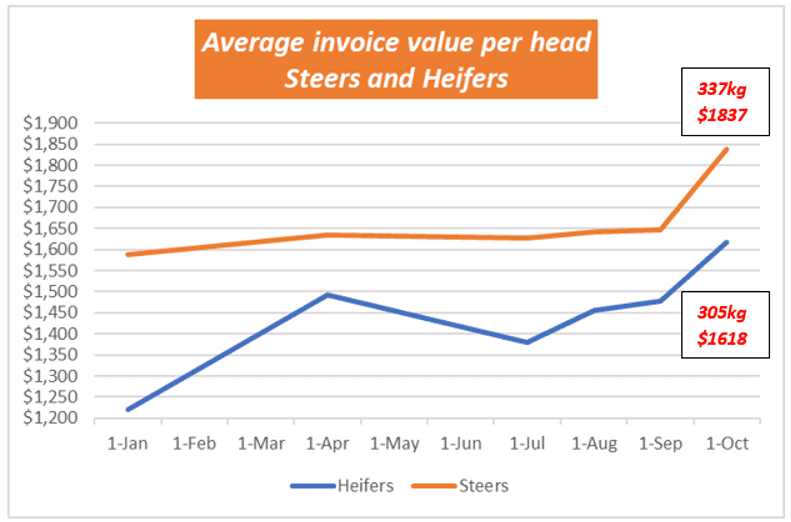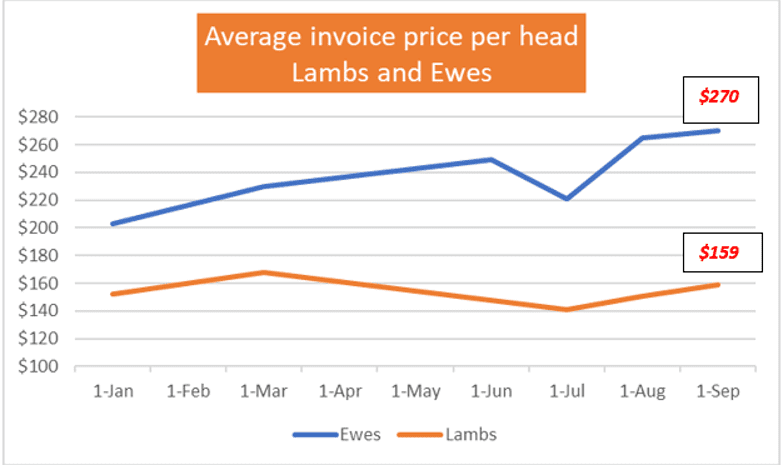 Worms, worms , worms
Hannah Jennings, Animal Health & Nutrition from Castec in Mt Gambier noted the continued rainfall has seen a spike in worm numbers for both sheep and cattle. This is keeping producers very busy trying to stay on top of their worm burdens and maintain livestock weight gains. Using worm test kits to manage your drenching regime as effectively as possible and the use of quarantine drenches for purchased livestock is very important.
Fat stock fall victim to worms as easily as plain stock and often are overlooked when the drench is being squirted around. Barbers Pole is the queen when it comes to losses of fat sheep.
And on the subject of flies, with the style of weather we are having, get your sheep jetted or back lined in October to save a lot of grief. Sheep are too valuable to have a "she'll be right" moment just in front of harvest.
Cattle
While at the Muchea cattle sale in WA, I caught up Roger Leeds, Livestock Pastoral representative, Nutrien. Roger is a long-time agent with an extensive network of clients and agents all over the state. Normally Roger consigns his client cattle direct to processor or live export. However, the recent saleyard prices have seen him direct cattle to the yards. Roger said: "I don't do this very often, but the reward is significant with the current supply and providing his clients with a great return."
Geoff Shipp, Elders WA said the majority of the Muchea yarding is northern cattle. Cow and heifer prices for the significant numbers in good condition have eased in the last week. Demand for local cattle remains very strong especially for Angus and Murray Grey steers and heifers. Live exporters are still active on cattle.
The cow prices in WA were 40–60cents behind the east although predominantly bos indicus cross cows. The younger inside cattle were on a par to the east from what I saw.
Mick Anderson, Tablelands Rural Agency  NSW said numbers at Carcoar are still low, with 1200 to 1500 per week and no real indication of an increase in the near future. Cows have eased, but best are still $4-$4.20/kg live. It is out of season for light cattle and feeders are staying around the $5.75-$5.90 for the 450kg models, with under 400kg stock giving $6 a shake in places.
With a season of records, Millah Murrah Angus smacked the ball out of the ground with their sale early this month. The stud's 118 bulls averaged $34,200., topping at $280,000 with two over $200,000 and a yearling bull at $110,000. Speaking to several buyers after the sale, they acknowledged the prices, but were very happy with the bulls purchased.
Live sheep exporters should test the market
Live sheep export restrictions over the Northern hemisphere summer are now coming to an end and should see exporters start to test the WA market over the next month.
Records tumble in sheep as well with the Aussie White result at Tattykeel topping at $165,000 to average $39,500 for the stud rams and an overall average including the ewes of $14,140 for 398 sheep. Auctioneers Miles Pfitzner, MPA Adelaide and Joe Wilkes from Wilkes & McKean Agency, Wagga will send this result straight to the pool room, I think.
Wayne Driscoll AWN Wimmera Livestock and Property, Horsham said the 18–27kg trade lambs were achieving $10/kg over hooks during September , but this has now dropped a full 50 cents/kg. Heavy lamb prices are starting to back off, with the $9.50/kg gone unless you have a contract in place. Two thirds of the suckers being offered are light and woolly stores are making from $150-$160. October forward prices have been released at $8.80/kg and for the first time both of us can remember November forward pricing has appeared. Some larger runs of Merino lambs are starting to ease in price in NSW, but rain may see them have another surge.
I attending the Elders / Nutrien Jamestown September ewe sale and the Spence Dix Marrabel ewe sale over the last week. Large crowds seemed to be trying to gauge what prices are doing. A significant amount of buying strength came from the Keith and Naracoorte agencies for both sales. Young ewe prices topped at $360 and $404 respectively.
The $404 ewes at Marrabel were keenly sort with AuctionsPlus bidders and agents at the sale having a real go on the April/May drop, Moorundie Park blood 1.5 year olds weighing whopping 75kg – good enough to put a saddle on.
There were plenty of buyable 1.5 year-old ewes at $230-$320 and quality 4.5 and 5.5 year-old ewes at $200-$250. Woolly Merino ewe lambs made up to $220 with most in the $160-$180 field.
The NSW sale reports on average seem to be $20-$40 up on the SA sales and may reflect the inability to cross borders for potential buyers and transport, although the feature sales such as the John Wells Memorial sales run by Elders Jerilderie had a very strong following of repeat buyers, with the first 30 odd pens of 1.5 year-old ewes making $320-$450. The 5.5 year-old ewes were on a par, ranging from $250-$310.
Goat is buoyant
Tony White from Gateway Livestock in Dubbo described the goat market as buoyant with excellent demand
The heavy skin-off goats 20kg+, which are sold to the US market, are ranging between $10-$10.30/kg. The lighter skin-on 6kg to 20kg goats were at $9.80-$10/kg, but lifted this week to $10.20/kg. There was a bit of a flush of numbers three weeks ago, but the processors have caught up now.  A couple of new players have entered the market utilising various plants and service kills.
Goats offered on AauctionsPlus continue to draw significant interest; however, some of the recent reserves have been well above market, leading to some lots being passed in. Activity on Kalahari Red and Boer bucks to be used to improve productivity has been very strong.
We all think goats are bullet-proof, but containment goats are very susceptible to worms with a lot of black scour and brown stomach worm infestation at present. Tony strongly advices drenching your goats as soon as possible to avoid disappointment.
New and aspiring agency and supply chain entrants
Another group of young and aspiring agency trainees are starting the Wodonga TAFE Supply Chain and Service provider qualification next week. As with all of agriculture during the COVID-19 pandemic,  the training world has had to adapt. Training utilises Zoom sessions until workshops can recommence in the new year. Simone Dand said the enquiry from agencies, feedlot and family farming businesses has been very strong over the last two months.
In-paddock cattle weighing systems
I think these are the next step in managing productivity and ensuring feed is maximised. Too often stock has been losing weight for three weeks before we notice. It is well worth investigating how you can adopt this into your program. There is potential to utilise that flash electronic ear tag we have whinged about since 2001 to collect really useful data.

Opportunities
Join females – create a two-way bet
Improver heifers – amazing what some feed and a drafting gate can do.
Create more weight – do the weight gain sums
Seasonal insurance – Get it done now – the costs are negligible and hopefully you don't have a fire
Get your property valued
Vaccinate and drench – worms and pulpy are here
Treat for flies
Leverage the value of your livestock
Night vision for big wild boars works