Chris Howie offers his perspective on market trends and opportunities in coming weeks and months, drawing from his own observations and from a wide contact network of producers, agents, processors, industry associates and leaders developed during his extensive career as a livestock agent. Chris is Stockco's Business Development Manager.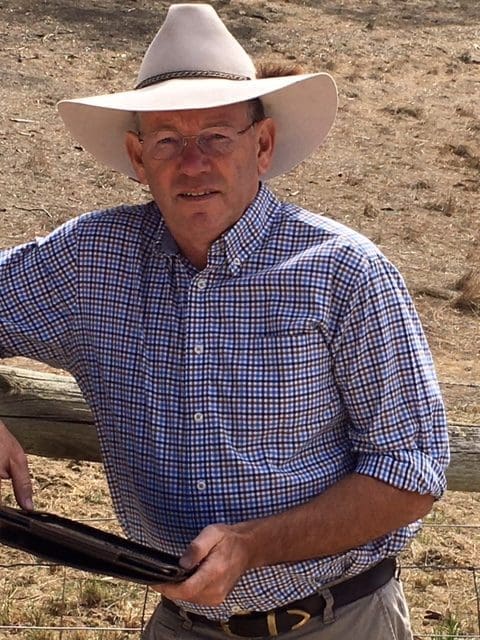 THE past month has been full on with a lot of travel and engagement with clients, producers, new starters and industry events. Some ask if I get sick of the travel but I don't know of any other industry that lets you see so many parts of Australia.
Maybe I'm still fresh from the COVID lockdowns.
Interface sales
In 2003, we ran the first electronic interface sale at the Inverell sale yards with AuctionsPlus. At that time it was a lot of work for very little benefit. The idea remained alive, but struggled to gain traction until the arrival of COVID in 2019, when it became a real saviour for producers, agents and buyers.
Industry platforms now interface this service at saleyards and the engagement has increased significantly. One thing constantly raised is the quality of the listing detail and the pictures/footage from interface sales when compared to livestock assessed for set online sales.
Standing in the saleyards, I have seen many lines purchased online for very good money that buyers in the lanes have already discounted or passed by because of drafting, poor structure or overall line quality.
As an agent, I wonder what the discussion is with the buyer when these livestock arrive home. The system is not broken, but it does need some significant tightening up. The real pushback will begin when prices ease and the "3 dogs" in the line are rejected, creating issues with vendor, agent and buyers that could have been avoided.
Best lamb chops I have ever eaten
A visit to King Island this month with StockCo Victorian & Tasmanian livestock manager, Michael Phelan was a real highlight for me in my StockCo role. The 60km long by 30km wide island in the middle of Bass Strait runs about 110,000 cattle, sheep and lamb operations (including one producer with 3000 Corriedales), 1600 people and three golf courses.
Fox and Mandy, Elders Merchandise, Currie, Ted Ryan, a local grazier and John from the King Island Hotel in Currie really went the extra yard organising a client afternoon and a full day of property visits. Most cattle on the island are Angus and Herefords with plenty of grass (and wind). Logistics are a real issue for the island with an ongoing push for an abattoir and assistance with shipping issues.  This video shows part of the most recent issue with two tugboats sunk in Davenport by a cement carrier.
Marc Greening, Injemira Beef Genetics was part of our small group and his insight and help with understanding of estimated breeding values EBVs), herd improvement and selection was well-received, with many questions asked. The sheep and lamb industry is much smaller than cattle, but the quality of the local lamb chops served at the King Island Hotel makes King Island a must visit.
Sheep
I say this every year – now is the time to buy ewes, mutton or lambs. Set up for the supply into winter and early spring. We have seen prices ease as they do every year. Run them in your shelter breaks, water courses and rough hills. Wool value is important as the 25mm pelt very quickly turns into a combing length wool at 65mm. Get your finance set early and put your plan in place to take the opportunity. Ask a livestock production advisor a few questions around maintenance requirements so they are ready to fire when the feed starts to appear. Concentrate on pre-lambing to keep them alive.
Mutton pricing has backed off as lamb numbers appear with plenty of lamb weight appearing out of Victoria and NSW. The short kill weeks are holding any significant price changes and I don't think we will see the market start to push until mid-May. Slaughter floors, the same as beef, are being impacted severely by staff shortages, COVID, thee short weeks and exporting hold-ups.
*Apology for last month. I used the overall average instead of ewe price. Graph now corrected.
Store lambs continue to ease, with some very good buying opportunities in early March on heavier types. Grain price is starting to impact lot feeding appetite with opportunity to take a margin on grain inventory being calculated vs feeding it to lambs.
Ewes are tracking as per normal with trading opportunities or flock building the main drivers. Main run of SIL ewes are now gone with lambing ready to start and animal welfare requirements around transporting pregnant females kicking in.
Wool
With the Foot and Mouth Disease outbreak in South Africa, I gave Andrew Dennis, independent wool consultant and ex-workmate a call to see if there had been any immediate impact on Merino fleece prices.
At Tuesday's sale there was an immediate spike of 20-25 cents, with Wednesday easing 10-15 cents.
The major issue at present is the COVID outbreak in China, which has bottlenecked ports and  is causing significant delays in and out. This link, Ship tracker,  will provide you with an idea of how choked the Chinese port system is.
For composite wools, I called James Kellock, Quality Wool, South Australia, and asked what his thoughts were. James said "at this time there is no real light in the tunnel over the next 6-12 months. Even the FMD bump in South Africa has not initiated any real interest. Wools with medullated fibre (won't take dye for textile) are only being used for base level applications such as insulation and carpet and there is an excess of supply at this time.
Cattle
With continued rain in the north east of NSW many think everywhere is the same. But after speaking to a few in Darwin in the Northern Territory and central Queensland, I found this is not the case. Patrick Burke from Adcock Partners Livestock and Property, Katherine noted there is a very large variance across the NT with the Barkly drier than it should be with a short season and feed already haying off. Katherine and areas north did not have a long wet, but aare still green and holding well with perhaps a bogging taking place prior to the Northern territory Cattleman's Association catch-up.
Scott Riggs, Territory Rural, Katherine and Peter Daniel, GDL Queensland followed on that a lot of work has been done to put forward pricing in place, with April being three short weeks and the impacts of processor staffing, shipping and numbers becoming a pressure point on price.
However, this easing over the next five weeks on the back of supply will provide some breathing space for the live exporters to gather some numbers. Stormy Kelly, Elders Katherine and Mick Newman Elders Alice Springs noted the southern demand continues to draw cattle away from the ships; however, the next eight weeks may see export opportunities appear. Mick said the run maybe relatively short, with his area well-grassed and looking to hold numbers.
Don Tucker, Elders Emerald said central Queensland has been patchy on feed with mainly storm rain. However, stock water is starting to become an issue in some places, which is driving numbers to market.
Brandon Gallagher who does the Argus feeder report centred on feedlots around Dalby reported the price has softened from $5.75 back to the low mid $5.00s over the past two weeks.
Speaking to several feedlots, many are well-positioned on cattle numbers with requirements covered until the last week of April. Exit numbers to processors are still an issue as well as grain price although most major feedlots are well and truly covered with grain contracted.
The southern weaner sales seem to have two parts with reports from the southern tablelands, where they are measuring rain in metres, continuing with strong prices similar to the January sales. Both of the large Powranna sales in Tasmania saw a definite gap between mainland prices however much of this has been driven by logistics availability to ship to the mainland not quality.
As we normally see at this time of year cow prices have eased about 50 cents as weaners are chipped off with dry and aged cows being sold.  Even though we are trying to rebuild the numbers keeping an old cow serves no purpose – cash them in and buy some heifers to replace them with a change over value of bugger all.
Steers and heifers have softened yet retained weight levels. I know some will say they can't buy at these rates, but they are the average of all the invoices we receive over the month from all sales and all states. Some of the regional special sales have been significantly stronger as we saw with the recent Cooma sale steers averaging $2214 and topping at $2700 and heifers averaging $1893 to top at $2460. With the run of PTIC heifers nearing it end the invoices are reflecting purchase of weaners heifers as future breeders and processor trading heifers.
AUS-MEAT – are they still the dispute referee?
I may have raised the topic of slaughter uniformity once before. In my role at StockCo, I speak to a lot of producers and agents about performance of their sale stock over hooks. Often this leads to a conversation about variations between different slaughter protocols at various abattoirs. Many times these assumptions are based on feel not fact – varying curfew loss, distance, weather etc. Yet it is amazing how many livestock are redirected away from one processor to another on this conversation alone.
When I first started as an agent, AUS-MEAT had a very clear outline on processing standards and an excellent review process if a producer was not happy with a result. As a referee, they supplied a clear set of protocols allowing a fact-based resolution. Maybe this has changed over time, but to me it seems a relatively simple reintroduction of this process could put this cancerous noise to bed. In turn, this would benefit producers, agents and processors.
Job opportunities and a bit of advice. If anyone has an aspiration to be part of the livestock industry now is the time. Agency traineeships, processors, feedlot opportunities and all service providers are looking for those that are keen to create a fantastic career. Most areas have an opening and it's only a matter of enquiring.
" How do we manage the expectations of our young staff? " 
I have been asked this question by a number of well-established agents over the past 6 months. At the March Wodonga TAFE agency and service provider training speaking to 18 participants, Steve Chapman, JBS Southern livestock manager delivered an address covering relationships, networks and resilience. One of Steve's key messages was "no one with less than five years in the livestock game has seen a difficult time with price".
My view is that current prices are allowing a form of entitlement to appear that can be quite destructive to a young agent's resilience and the relationship within their company. When an answer is not what a young agent wants to hear it seems it is easier to move on than have the hard conversation.
Employer and employee need an honest discussion
What they are good at, what they need help with, what their plan is for the next 12 months, and what success looks like for both parties are the main points.
As a boss you need to listen. If you gather this information your next conversation about role, pay, development is based on what was said at the last chat. It has now moved to a fact-based assessment that was agreed on, not an emotional discussion going in circles. This in turn will build a better person for your team who is recognised for performance not expectation.
Quick notes
The new MLA market report system is a cracker
Wodonga TAFE agent and service provider qualification had 12 more new participants from 10 business WA to Queensland attend their 1st workshop last week.
StockCo new ownership in the wind adds real horsepower to the livestock finance opportunity within your operation.
MLA Livestock Genetics Forum held in Adelaide was excellent. I could not understand the absence of local producers and agency representatives though considering the standing of this event.
Opportunities
Buy winter supply mutton and lambs
Hold a paddock for deep winter opportunity buys – cows and calves or plain steers
Set your ewes up for lambing – help lambs survive it is a cheap investment
Start weighing calves and lambs at marking time
Think about one of your relatives that wants a job in agency, service provision, processing, feed lotting, shearing and make a phone call.
Have a conversation with young staff to put a plan in place.
Be careful chasing shiny things and changing your program – especially sheep operations.
Have a great Easter break with you family and turn the phone off!!