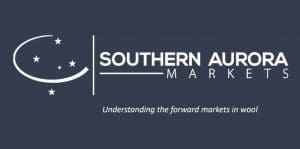 A CHOPPY week in the auction rooms resulted in uncertainty on the forward wool market this week.
An anticipated firmer auction market led to buyers paying forward premiums ahead of the opening, with 21 micron trading 1300-1320 cents for December.
The strong opening to the cash market Tuesday led to high clearances. Sellers on the forward markets backed away as spot prices increased around 20 to 30 cents across all micron types.
Buyers were reluctant to follow with short-term demand signals remaining mixed. This played out on Wednesday and Thursday, with the spot market spluttering and the bid/offer spread on the forwards wide as buyers and sellers struggle to agree on fair value.
The forward market continues to project a flat to positive curve for the New Year, but the run to Christmas is still looking a bit bumpy.
Fine wool has been under pressure for the last month, while the broader Merino microns (20 to 22) have stayed relatively stable. This is illustrated in the graph below that has seen the difference (basis) between 17 and 21 microns fall from near record highs — 1229 cents in early October — to 1050 cents.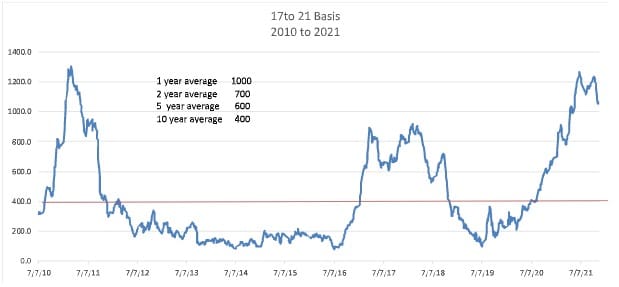 Forward prices into the New Year project that this tightening basis pattern will continue at least into the early part of the year. Interest on 17-19 microns is lacklustre for the first half of 2021, with interest from July 2022 through to October 2023 flat to cash (19 micron 1620 cents).
The medium wools remain bid, albeit in light volume, at a 20 to 30 cent premium for the first half of 2022, then reverting to a relatively flat curve out to March 2023.
Growers looking get cover pre-Christmas will likely need to be targeting closer to the spot as exporters take a relatively neutral view in the nearby. A little more optimistic view seen for the New Year particularly on the medium microns
This week's trade
December 2021 21 micron                                           1300/1320 cents                              10 tonnes
Total 10 tonnes